Kuwait joins 3 Gulf states in issuing Lebanon travel warning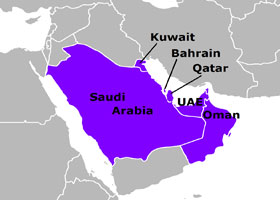 The Gulf state of Kuwait on Monday urged its citizens to avoid travel to Lebanon and also asked those already present there to leave after deadly clashes linked to the Syrian conflict left two people killed in Beirut.
The foreign ministry called on Kuwaitis to cancel travel plans to Lebanon "due to developments in the tense security situation."
The ministry's statement, carried by the official KUNA news agency, also urged Kuwaitis currently in Lebanon to leave the Arab country "for their safety."
Kuwait's move follows a similar decision on Saturday by its Gulf neighbors the UAE, Qatar and Bahrain.
The Kuwaiti call comes after gunbattles between pro- and anti-Syrian groups rocked Beirut overnight Monday, killing at least two people.
An office housing a small pro-Syrian party in Tareek el-Jdideh, a mainly Sunni Muslim neighborhood of west Beirut, was torched during the clashes.
The fighting erupted hours after reports that army troops had shot dead Sheikh Ahmad Abdel Wahid, a prominent anti-Syria Sunni cleric, near a checkpoint in north Lebanon on Sunday. Another cleric in the car was also killed.
Their killing followed a week of clashes between Sunnis hostile to the Syrian regime and Alawites who support Syrian President Bashar al-Assad that left 10 people dead in Lebanon's northern port city of Tripoli.
Mansour inquires
Foreign Affairs Minister Adnan Mansour contacted his Kuwaiti counterpart Sheikh Sabah Khaled Al-Sabah to inquire about Kuwait's travel warning for Lebanon, National News Agency reported on Monday.
" The Kuwaiti minister said the decision was a result of the events that some Lebanese areas witnessed," NNA said, adding that Sabah "promised to reconsider the decision once the reasons that led to the warning are resolved ."
Tourism is the most important source of revenue for Lebanon. The action by four out of six Gulf states is a blow to the tourist industry which counts heavily on tourists from the Arabian Gulf countries.
Al Arabiya