"I am against all foreign intervention in Syria", Tlas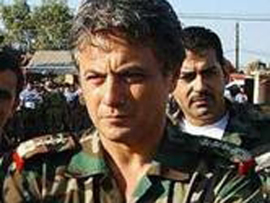 Brigadier General Manaf Tlas, one of the most senior defectors from President Bashar al-Assad's rule, said on Monday he was against any foreign intervention in Syria as it would not be able to bring down the government.
Tlas, who fled Syria in July to France, where his sister, widow of a billionaire Saudi arms dealer, resides, added that he had managed to escape Syria with the help of French special forces.
"I am against all foreign intervention in Syria … it is up to the Syrian people to achieve its victory and it needs to do that itself," Tlas said an interview with France's BFM-TV and BBC Arabic.
Western powers have said military action to secure safe zones in Syria was still an option, but they have shown little appetite for sending warplanes to Syria to protect safe havens or mount the kind of NATO bombing that helped Libyan rebels to topple Muammar Gaddafi last year.
"For me the situation in Libya is nothing like Syria, it is much more complicated. I don't see any foreign intervention being able to reach a solution," Tlas, a former friend of Assad's, said.
With a taste for lavish parties and expensive cigars, the 48-year-old Tlas strikes a contrast with veteran opposition leaders who have endured Syria's notorious jails as political prisoners, and with a new generation of leaders honed by the grit of street demonstration and armed resistance.
Tlas is considered a potential candidate to pave the way for a peaceful transition both inside and outside Syria, but many opposition activists say he is tainted by his long service to Assad and the president's late father.
"My role is to unify and bring together our people. There are many groups working in our society whether the army, internally or externally," he said in Arabic. "We need to create a compact chain to bring this regime down."
Since his defection, Tlas has been hosted by Turkey's foreign minister and given two interviews to media in Saudi Arabia – high profile signals of support from two prominent regional powers which suggested they saw a future role for the former pillar of the Syrian establishment.
Reuters