U.S. Rejects Israeli Calls for Tougher Iran Moves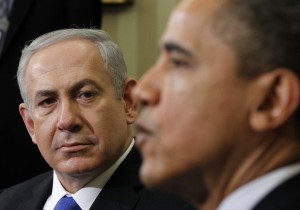 The Obama administration rejected Israeli calls for clearer U.S. "red lines" that Iran can't pass without risking military conflict, in a sign of continuing tensions between Prime Minister Benjamin Netanyahu and President Barack Obama over Tehran's nuclear advances.
The divisions come against the backdrop of November's U.S. presidential elections, in which Mr. Obama's Republican opponent, Mitt Romney, has tried to paint the Democratic president as weak in his support for Israel. The U.S.-Israeli exchange also comes as Washington tries to convince its ally not to launch military strikes against Iran.
Mr. Obama has asserted that he wouldn't let Iran obtain a nuclear weapon. However, Mr. Netanyahu and other top Israel officials in recent weeks have called for the U.S. to lay out clearer limits on nuclear capabilities. Mr. Netanyahu has been adamant that Israel won't accept an Iranian "zone of immunity," with its nuclear-fuel sites underground and impregnable to attack.
In a Canadian Broadcasting Corp. interview aired Sunday, Mr. Netanyahu said the situation calls for stricter limits than now exist.
"Iran will not stop unless it sees clear determination by the democratic countries of the world and a clear red line," Mr. Netanyahu said. "I don't think that they see a clear red line, and I think the sooner we establish one, the greater the chances that we won't need other types of action."
But the White House and State Department on Monday rejected the Israeli calls, saying such specificity would harm Washington's efforts to use diplomacy to curtail Iran's work, which they believe is intended to build nuclear weapons, a charge Tehran denies.
These officials stressed that sanctions are starting to hurt Iran and that there was still time for negotiations to work. The White House also denied there was any discord between the U.S. and Israel on how they view the Iranian threat.
"The president has said, again and again, unequivocally, that we will not allow Iran to obtain a nuclear weapon," State Department spokeswoman Victoria Nuland said in Washington. "So we are absolutely firm about the president's commitment here, but it is not useful to be parsing it, to be setting deadlines one way or the other, red lines."
Israeli officials criticized the U.S. strategy on Monday.
"Without a clear red line, Iran will not cease its race toward its nuclear weapon. These statements will not stop Iran's centrifuges from spinning," a senior Israeli official told reporters in Jerusalem. "Unfortunately the opposite could be true: [U.S.] statements will not serve to deter Iran, but will put it at ease."
Last week, the United Nation's nuclear watchdog, the International Atomic Energy Agency, said Tehran was moving closer to moving its nuclear production underground by doubling the number of centrifuges it has installed at its facility near the holy Iranian city of Qom.
Israeli officials have privately suggested that the U.S., in addition to declaring that Iran can't move its nuclear production underground, must lay out other limits that, if breached, could lead to military action: steps by Iran to produce higher enriched uranium, preparations to test a nuclear device, or efforts to develop a nuclear warhead.
Mr. Netanyahu and other Israeli officials contend that international sanctions against Iran aren't forcing Supreme Leader Ayatollah Ali Khamenei to change course on the country's nuclear program. And the Israeli leader has increasingly threatened to unilaterally take military action against Iran's nuclear sites.
Tensions between Messrs. Obama and Netanyahu could continue to play out in the weeks heading into the November election. The Jewish-American vote, particularly in swing states such as Florida, is seen as potentially crucial in shifting the vote in either Mr. Obama's or Mr. Romney's favor.
Jewish and Israeli sensitivities have proven important to Mr. Obama. Last week, the Democratic Party was forced to alter its policy platform after it initially omitted a line from its 2008 document calling Jerusalem the capital of the Jewish state.
Mr. Obama personally called for the reinstatement of the platform line, administration officials said, following criticism from Mr. Romney and other Republican leaders.
Mr. Romney's campaign didn't answer a request for comment on the controversy over red lines.
Both President Obama and Mr. Netanyahu will be in New York later this month to attend the annual gathering of the U.N. General Assembly.
Neither government has said whether the two leaders would meet there. But some senior U.S. officials haven't ruled out that Mr. Obama might strike a tougher line on Iran during his address in New York.
"In terms of saying something firmer [on Iran], that may well happen," said a senior U.S. official.
WSJ