Libya: Election Results Break an Islamist Wave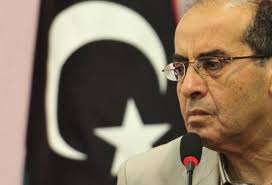 A coalition led by a Western-educated political scientist appeared on Sunday to be beating its Islamist rivals in Libya's first election after Col. Muammar el-Qaddafi, breaking an Islamist wave that swept across neighboring Egypt, Tunisia and Morocco in the aftermath of the Arab Spring uprisings.
The preliminary results, characterized by independent monitors and party representatives who witnessed the vote count for a new national assembly, reflect in part the well-known name and tribal connections of the coalition's founder, Mahmoud Jibril. He is the former interim prime minister who helped lead the de facto rebel government in Benghazi, and he is also a member of Libya's most populous tribe, the Warfalla.
The apparent success of Mr. Jibril's party over the Muslim Brotherhood's bloc makes him perhaps the most important voice in the next stage of Libya's transition, though he is barred for now from elected office.
In a campaign that took place over just two weeks, after a 40-year stretch in which Colonel Qaddafi crushed any dissent or even political organizaing, the ideological lines for Libyan voters remained fuzzy, at best. Many voters acknowledged plans to let tribal, family or community ties guide their vote.
The Islamists, in contrast, sought to portray Mr. Jibril's coalition as "liberal" or "secular" — and some who stood with him acknowledged privately that for them those terms were apt.
Still, unlike opponents of Islamists in other Arab countries, Mr. Jibril never hurled accusations of extremism against those who called for the application of Islamic law. Like the other major factions here, including the Islamist parties, Mr. Jibril pledged to make Islamic law a main source of legislation, though not the only one.
He and his allies publicly echoed a frequent refrain of Libyan voters who were unsure what to make of re-emergent groups like the Muslim Brotherhood: "Do they think they are more Muslim than we are?"
A political scientist who earned his doctoral degree at the University of Pittsburgh and taught there as well, Mr. Jibril said in a recent interview on Libyan television that friends and neighbors anywhere he has lived would describe him as someone who "goes to the mosque for Friday prayers, and we see that he prays."
"The Libyan people don't need either liberalism or secularism, or pretenses in the name of Islam, because Islam, this great religion, cannot be used for political purposes," he said. "Islam is much bigger than that."
"Jibril is praying five times a day and fasting, so what is the difference?" asked Suleiman Zoubi, a former judge and political independent in the eastern city of Benghazi who appeared set to win a seat in the congress. Ali Tarhouni, the leader of a fledgling party in Mr. Jibril's coalition and another former minister in the transitional government, called the results evidence of Libyans' "moderate" character. But he also attributed their success to familiarity. "People trust us," he said. "Coming out of a war, with a political vacuum and a security vacuum, people were looking for those they knew were tested in the tough times."
Official results will not be released for several days. The votes were counted Saturday night in each polling center in the presence of party and candidate representatives, as well as independent observers. Both Islamists and their opponents said Sunday that Mr. Jibril's coalition was headed for at least a plurality of the planned congress. It is expected to govern Libya for 18 months and possibly oversee the writing of a constitution.
Some leading Islamists had predicted as recently as a few days ago that their parties would win as much as 60 percent of the seats. But on Sunday, Hisham Kreskshi, a leader of the party founded by Libya's Muslim Brotherhood, said it now expected to win less than a quarter of the 200 seats.
He said the Brotherhood's party was not disappointed by its own results, but it was unhappy with the dominance of Mr. Jibril's coalition. "We were disappointed that there was nobody else but him and us, disappointed with the other parties we might have had a coalition with."
A loosely Islamic party, one founded by Abdel Hakim Belhaj, a former leader of an armed insurgency here who became the head of Tripoli's military council, also fell short in the voting, attracting even less support than the Brotherhood's bloc.
Although Mr. Jibril's previous interim role barred him from running for the planned national congress, his name appeared larger than that of his party or its candidates on campaign posters. In interviews in several parts of the country in recent days, a plurality of voters volunteered that they planned to vote for Mr. Jibril, even though his name was not on any ballot.
Mr. Jibril's tribe, the Warfalla, includes perhaps a million of Libya's roughly 6 million citizens. The tribe's homeland is in the western city of Bani Walid, but there are large numbers of its members in the major cities of Tripoli and Benghazi as well.
His victory would complete a comeback for a leader who was pushed from office under pressure from rebels after the capture and killing of Colonel Qaddafi. They said Mr. Jibril spent too much time in Western capitals and neglected domestic needs in rebel-controlled territory.
But Mr. Jibril pivoted out at a propitious time. Celebrated during the fighting as the embryo of a new Libya, the self-appointed Transitional National Council lost much of its popularity after the fall of Colonel Qaddafi. The council failed to control the squabbling militias that took over the country, and at times bowed to their demands for top posts or other patronage.
Among Mr. Jibril's most vocal opponents were the militia leaders from Misurata who emerged as a powerful force in the interim government because of their aggression in the fight against Colonel Qaddafi. The Misurata tribe has a rivalry going back generations with Mr. Jibril's Warfalla tribe, who killed a hero from Misurata during the pre-World War II fighting against the Italian occupation of Libya.
No one expects the vote to end such resentments. Reports from Misurata on Sunday indicated that it was one of the few major cities to reject Mr. Jibril's party. Instead, early results indicated that the city had favored a party founded by Abdurrahman Sewehli, a descendant of that slain hero.
Of 200 seats in the planned national assembly, about 80 will be allocated to a competition between the party lists, mainly in the major cities. The other 120 seats will be decided by races between individual candidates.
But the Islamists conceded Sunday that they did not expect to dominate those seats, either. Repressed with exceptional cruelty by Colonel Qaddafi, Libya's Islamists never developed the preaching and charitable networks that gave them a leg up over liberals in Tunisia or Egypt, to say nothing of the political expertise.
As recently as a few weeks ago, Muslim Brotherhood fliers introduced the organization on the streets of Darnah with the slogan, "You have heard of us — now hear from us!"
But at the same time that he demonized Islamists, Colonel Qaddafi muddied their identity as an opposition force by incorporating Islamic ideas and imagery into his own mythmaking. He banned alcohol and legalized polygamy, declaring Libya to be already in some senses an Islamic state.
Tellingly, Islamists lost out even in Darnah, an eastern city that is considered their stronghold, said Abdel Hakim el-Hasadi, a former Islamist fighter who is now a leading politician there. But he said Mr. Jibril had called him two days before the vote to seek his support, and they now planned to meet in the capital.
"If we take Jibril at his word, this is 100 percent good," Mr. Hasadi said.
NY Times