Syrian ambassadors expelled from UK, France,US,..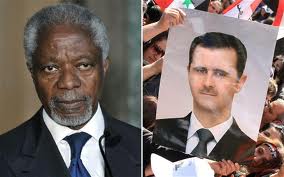 Britain, France, the United States and three other European countries are expelling the ambassadors of Syria in protest at the massacre of more than 100 people, including scores of children, in Houla near Hama last weekend.
The co-ordinated international diplomatic action came as Kofi Annan, representing the UN and the Arab League, met the Syrian president, Bashar al-Assad, in Damascus "to convey the grave concern of the international community about the violence in Syria" and the prospects for the implementation of his apparently failing six-point plan.
Australia also said it was expelling the Syrian ambassador. It is understood that the US will follow suit. Germany announced it was expelling the Syrian envoy, and Spain and Italy are due to do the same.
Syria has flatly denied responsibility for the atrocity, calling it a "terrorist massacre".
France's president, François Hollande, was the first European leader to announce the expulsion of the ambassador, describing it as "not a unilateral decision but in consultation with our partners". Britain's decision was due to be made public by William Hague, the foreign secretary, shortly afterwards.
It was not immediately clear why other members of the 27-strong EU had not joined in.
Britain withdrew its ambassador and in effect closed its embassy in Damascus on security grounds earlier this year. That meant there was little to lose by taking this punitive step. But its effect will be largely symbolic. Syria's ambassador, Sami Khiyami, left London some months ago. The charge d'affaires, Ghassan Dalla, was given the news when he was called into the Foreign Office. Two other Syrian diplomats have also been told to leave the UK.
Annan met Assad "to convey the grave concern of the international community about the violence in Syria, including in particular the recent events in Houla," reported his spokesman, Ahmed Fawzi. "He conveyed in frank terms his view to President Assad that the six-point plan cannot succeed without bold steps to stop the violence and release detainees, and stressed the importance of full implementation of the plan." Annan is to give a press conference later.
Guardian