Turkish envoy updates Mikati on abducted Lebanese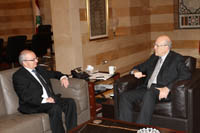 Lebanon Prime Minister Najib Mikati on Tuesday met with  Turkish Ambassador to Lebanon Inan Auzildise to discuss  with him the issue of the Lebanese pilgrims, who were kidnapped in Aleppo province in Syria  last week.
National News Agency (NNA) said that the Turkish envoy updated Mikati about   Ankara efforts in trying  to resolve the case of the abducted Lebanese citizens. No other details were disclosed about the discussion.
The Lebanese men were on their way back from a pilgrimage in Iran on May 22 when gunmen intercepted their buses in the northern Syrian province of Aleppo, according to the women on the pilgrimage who were allowed to go free and arrived in Lebanon hours later.
In a related development Syrian Human rights activist Haitham al-Maleh said in remarks published in As-Sharq al-Awsat newspaper that the Lebanese men who were taken hostage in Syria last week would not have been abducted if they had not been Hezbollah members.
"The men would not have  been abducted if they had not been Hezbollah members and if jamming devices and binoculars had not been found with them . I gave my opinion on the matter, which is not to not release ," Maleh said.
Mikati said in remarks published by As-Safir newspaper on Tuesday that there were no tangible results in the case of the Lebanese men kidnapped in Syria last week.
"The cabinet will resume its contacts with all parties to release the abducted Lebanese men. All we can say to the families [of the kidnapped pilgrims] is that their sons are well, but [no] tangible [results] until now," Mikati was quoted as saying