Kuwait govt urged to break all ties with Assad regime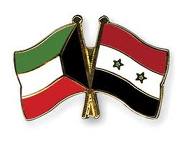 Kuwaiti MP Osama Al-Munawer proposed on Monday that Kuwait coordinates with the Free Syrian Army to determine their needs for equipment and weapons and provide them with sustenance. He proposed that donations for the army should be collected under the supervision of the government.
Parliament lawmakers continued to lament the deteriorating situation in Syria and the lives lost as a result. Speaker of Parliament Ahmed Al-Saadoun had said the legislative authority is taking steps to halt all relations with the current Syrian regime of Bashar Al-Assad, such as canceling all agreements between the two countries, and may hold a special session in that regard. He said "proposals were submitted to the Legal and Legislative Committee to stop all signed agreements with the Syrian regime".
Al-Saadoun said the legislative and executive authorities must take specific and quick measures and provide the Syrian people and its free army and opposition with continuous financial support. He called on the government "to extend a helping hand by receiving those injured in Syria and facilitate procedures so that resident Syrians are able to re-connect with their families either in Kuwait or Syria".
A number of MPs, such as MP Mohammed Al-Dallal, Jamaan Al-Harbash, Waleed Al-Tabtabaei and Faisal Al-Mislem, have announced they will be taking donations to the Syrian people at their diwaniyas, following the reported massacre at the Syrian district of Houla.
Liberal MP Nabil Al-Fadhl, however, strongly criticized the majority MPs request for donations Monday. While assuring that he is against the murder of innocents in Syria, he said that donations must be collected through legitimate charitable organizations. He further lamented that the pictures displayed during Sunday's conference on Syria are either fabricated or not related to the Syrian massacre.
Furthermore, MP Mohammed Al-Khalifa added that the Majority Bloc agreed Saturday evening to request the allocation of an hour during the June 5 parliament session to discuss Syria. He stated the majority decided to support the Syrian Revolution and refugees with financial aid as well as treat those injured in Kuwait's hospitals.
On another note, Al-Khalifa disclosed that the majority discussed the formation of a single electoral constituency and the coordination committee was assigned to prepare a final analysis. He said the upcoming parliament session will focus on passing anti-corruption laws and other pertinent bills.
On his part, MP Saifi Al-Saifi said the majority has agreed that the grilling request against Minister of Social Affairs and Labor Lt. General Ahmed Abdul-Latif Al-Rujeib will be submitted next week.
Meanwhile, Rapporteur of the Legal and Legislative Committee MP Mohammed Al-Dallal said the committee discussed on Sunday anti-corruption laws and the establishment of Public Authority for Integrity to be headed by the state minister for Cabinet affairs. He added that seven trustees will be appointed, nominated by the Cabinet and approved by the National Assembly. The bill will be finalized Tuesday.
On the Dow Chemical company affair, Al-Dallal stated that it is necessary for both the legislative and executive authorities to form separate probing committees to study the legalities of the contract. "The Dow case has now become much more than a political dispute. What is important now is to reach a mechanism that can benefit Kuwait's interests and protect its public funds and stabilize its oil sector," he said.
On his part, liberal MP Ali Al-Rashid reiterated calls for a special session on the Dow case. He said Speaker of Parliament Ahmed Al-Saadoun is primarily responsible for the cancellation.
Meanwhile, the Justice (Al-Adala) Bloc proposed that all embassies of Kuwait establish Islamic Affairs missions or attaché offices to promote Islam, provide guidance and oversee charities and projects as per the Islamic Cooperation Commission.
Arab Times