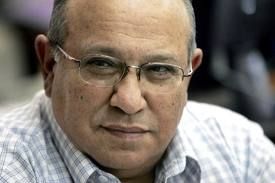 Contrary to doomsday assessments voiced by Israeli leaders in recent years regarding Iran's nuclear aspirations, Israel's former spy chief Meir Dagan says an air strike against Iran's nuclear facilities would be a "stupid idea that offers no advantage."
"Whoever attacks Iran should understand that he may bring about a regional war in which both Iran and Lebanon's Hezbollah, as well as Hamas and Syria, would fire missiles at Israel," Dagan warned during a conference at the Hebrew University in Jerusalem on Friday.
It was Dagan's first public appearance since stepping down as chief of Mossad, Israel's foreign intelligence service, in early January.
While the Israeli Air Force can significantly damage Iran's nuclear infrastructure, it is highly doubtful that a strike would successfully complete its objective, Dagan said, noting that the Iranian facilities have been scattered in various locations throughout the country and that attacking them would likely be followed by harsh international criticism.
"The Iranian problem should be shaped as an international problem, while measures meant to delay the development of Iran's nuclear program should continue," Dagan said.
In a closed briefing to reporters a few days after leaving his post, excerpts of which were published by local media, the former Mossad chief determined that Iran will not be able to build a nuclear weapon before 2015, further setting back intelligence assessments of when Tehran might become a nuclear power.
With the exception of two other past Mossad chiefs, who praised Dagan's audacity, senior Israeli government and defense officials on Sunday slammed his remarks, saying they are counterproductive to Israel's efforts to counter the Iranian nuke program.
Defense Minister Ehud Barak said that while Dagan's contribution to Israel's security was immense, he "should not have shared that opinion with the public at large."
Strategic Affairs Minister Moshe Ya'alon echoed Barak, saying Israel's civil servants should refrain from sharing with the public the "contents of closed discussions."
"I prefer that these things not be stated publicly. Hopefully, the Iranians still view (Dagan's remarks) as an Israeli conspiracy (to trick them into thinking that Israel is downplaying the threat) ," Ya'alon told Israel Radio. "A military option against Iran should be available."
Iran consistently claims its nuclear program is limited to civil purposes, mainly for electricity production. Israel, which views a nuclear Iran as an existential threat, has not ruled out the possibility of military action. The United States and some Western countries have also asserted that the Iranian program is aimed at producing weapons.
U.S. defense officials, however, repeatedly express concern about conflicting assessments by their Israeli counterparts regarding the deadline for an Iranian bomb and how it would be used, if at all.
Israeli Defense Minister Ehud Barak last week said that Iran is unlikely to bomb Israel in the event if it were to obtain a nuclear weapon.
"Not on us and not on any other neighbor," Barak said in an interview published in Ha'aretz Magazine on Friday, referring to the likelihood that Iran would employ a nuclear bomb against the Jewish state.
Asserting that the rationale of Iran's rulers cannot be relied upon, Barak added, "I don't think in terms of panic. What about Pakistan? Some political meltdown happens there and four bombs wind up in Iran? So what? So you head for the airport? You close down the country? No. We are still the most powerful in the Middle East," said Barak, who back in 2009 estimated that Iran would go nuclear by 2011.
Dagan and Barak's stated positions on Iran are out of step with Prime Minister Benjamin Netanyahu, who in recent years has repeatedly warned against the danger embodied in Iran's drive to obtain a nuclear bomb.
"Fifteen years ago, during my first term as prime minister, I went to speak before the joint session of the U.S. Congress. I said that the single greatest threat facing the world, and my own country, was the arming of Iran with nuclear weapons," Netanyahu said in a March 17 interview with CNN.
When asked what Israel is doing to combat the Iranian threat, Netanyahu replied that he is still attempting "to alert the world and leaders of the world that it is not merely (Israel's) problem, that it is their problem… I think this fanatic ideology armed with nuclear weapons is the single greatest threat to the peace of the world, not only of Jerusalem, but of London, Berlin, Paris and New York."
Opining that international sanctions meant to convince Iranian President Mahmoud Ahmadinejad to let in IAEA (International Atomic Energy Agency) inspectors are not enough, Netanyahu said those sanctions needed to be coupled by a "credible military option," adding that Israel "reserves the right" to strike Iran at a timing of its choosing. xinhua