Gaddafi to speak as revolutionaries surround Tripoli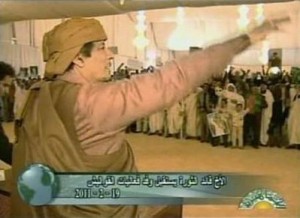 Libyan leader Moammar Qaddafi is soon to make a public address in Zawiyah city west of Tripoli, state television said Thursday, two days after he broke cover to urge his supporters to crush an insurrection.
The Libyan capital was a ghost town Thursday morning, with witnesses telling BBC that the city was heavily guarded by pro-Gaddafi forces, with tanks deployed in the suburbs.
But defections of military officers had multiplied and anti-government protesters declared victory elsewhere after reportedly seizing control of the third largest city, according to CNN.
Videos on the internet suggested that Zawiya, a town 30 miles west of Tripoli, had fallen to anti-government forces.
On Tuesday, in a defiant, rambling speech on television, Qaddafi vowed to remain in Libya as head of its revolution, saying he would die as a martyr in the land of his ancestors and fight to the "last drop" of his blood.
He also ordered the army and police to crush the popular uprising against his iron-fisted four-decade rule that has left hundreds dead.