Amid Middle Eastern turmoil, Saudi King offers cash to citizens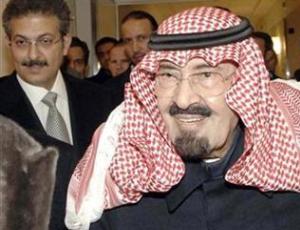 Saudi Arabia's King Abdullah yesterday unveiled a series of benefits for citizens estimated to be worth about 140 billion riyals (S$47.6 billion), as the oil-rich nation warily watches the unrest spreading around the Middle East. Abdullah is offering financial assistance for Saudi Arabia, where unemployment is said to be as high as 40 percent among people ages 15 to 24.
The King ordered 40 billion riyals to be pumped into the country's development fund, raising a budget originally set at 47 billion riyals this fiscal year. The fund provides interest-free loans to Saudis who want to build homes, get married or start small businesses.
Other measures included a 15 per cent cost of living adjustment for government workers and a year of unemployment assistance for youth.
The announcement was made amid signs that the undercurrent of discontent in the kingdom could be bubbling to the surface. Saudis have been inspired by the uprisings that have unfolded in their region, and analysts believe that Saudi regime thinks it can buy off its own people with cash.
"This might work as a stopgap measure, but it suggests the total lack of real political vision," said Shadi Hamid, director of research at the Brookings Doha Center.
A Facebook page calling for a "March 11 Revolution of Longing" in Saudi Arabia has begun attracting hundreds of viewers.
A communique posted on the page, which has been endorsed by more than 470 people, calls for "the ousting of the regime" and lists demands including allowing people to elect their ruler and members of the advisory assembly.
Showing just how deep the concern is, the King ordered the economic measures even before his plane touched down on Saudi soil yesterday. He was returning after a three-month absence for medical treatment in the United States – where he underwent surgery to a herniated disk – and recuperation in Morocco.
Analysts do not expect unrest like in Egypt or Tunisia since the Gulf Arab state sits on more than US$400 billion (S$511 billion) in net foreign assets but they say Riyadh must address social pressures such as high youth unemployment and housing problems.
"Housing and job creation for Saudis are two structural challenges this country is facing," said Mr John Sfakianakis, chief economist at Banque Saudi Fransi, who put the total value of the King's measures at 140 billion riyals.
Today, AOL