Gaddafi: I am in Tripoli, not Venezuela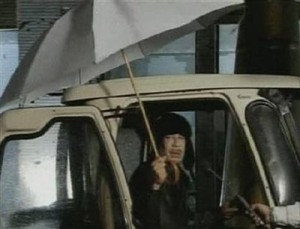 Libyan leader Muammar Gaddafi appeared on state television on Tuesday signalling his defiance and saying he had not fled a revolt against his 41-year rule.
"I want to show that I'm in Tripoli and not in Venezuela. Do not believe the channels belonging to stray dogs," Gaddafi said, under a large umbrella, leaning out of the front seat of a van.
Reports on Monday said Gaddafi had fled to Venezuela, ruled by his friend and fellow revolutionary President Hugo Chavez.
"I wanted to say something to the youths at Green Square (in Tripoli) and stay up late with them but it started raining. Thank God, it's a good thing," Gaddafi said in a 22-second statement in front of his house, his first appearance since protests to topple him started last week.
Libyan forces loyal to Gaddafi have fought an increasingly bloody battle to keep the veteran leader in power with residents reporting gunfire in parts of the capital Tripoli and one political activist saying warplanes had bombed the city.
Residents have described a "massacre" on the streets of Tripoli, where government buildings have been set alight.
There are also reports that warplanes have bombed parts of the city, and helicopters carrying armed African mercenaries have landed in the streets.
But Gaddafi's son, Saif al-Islam Gaddafi, said warplanes had hit only ammunition dumps.
He did not say why jets had carried out the air strikes, but on Sunday he accused protesters of raiding ammunition depots in the eastern city of Benghazi.
Reuters