Libya jams satellites, impacts signal in Lebanon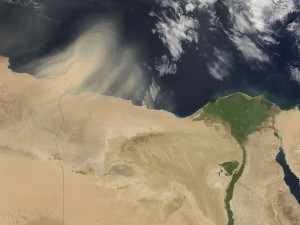 Al Jazeera's signal across the Middle East and North Africa was plagued by jamming on Sunday, the Arab satellite broadcaster said, and Lebanon said the electronic interference was coming from Libya.
In Beirut, Lebanese Telecommunications Minister Charbel Nahhas said the jamming "originated from Libyan territory" and it was also affecting Lebanese channels.
Al Jazeera, whose coverage of the regional political unrest has been widely watched in the Arab world, first reported jamming on Friday and said its website had been blocked in Libya.
"They (Libyans) see what these televisions carry about what is happening in their country and they jam the transmission points … so Al Jazeera is affected and we are affected too," Nahhas told Reuters.
Officials says Libya is jamming some Lebanese TV stations because of their reporting on the bloody crackdown on protesters in the North African country.
Lebanon's state-run National News Agency reported the jamming Sunday.
"We believe that whoever is doing this is operating with sophisticated and large equipment," an Al Jazeera spokesman said in a statement.
The crackdown in Libya is shaping up to be the most brutal repression of anti-government protests that began with uprisings in Tunisia and Egypt.
Lebanese stations including Hezbollah's Al-Manar TV, the private Al-Jadeed and Lebanon's National Broadcasting Network experienced interference.
Lebanon's National Media Council blamed the jamming on Libya.
The two nations have troubled relations going back to the disappearance of a Lebanese Shiite cleric 30 years ago on a visit to Libya. In Lebanon, it is widely believed the cleric was killed after a dispute with Moammar Gadhafi.
AP