Gaddafi orders jets to bombard protesters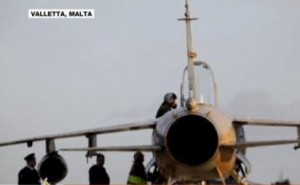 The faltering government of the Libyan strongman Col. Muammar el-Qaddafi struck back at mounting protests against his 40-year rule, as helicopters and warplanes besieged parts of the capital Monday, according to witnesses and news reports from Tripoli. Eyewitness reports state that at least 250 people were killed in the past 24 hours alone.
According to Al Jazeera, military jets have bombed protesters in Tripoli. Other military jets have reportedly refused orders to bomb protesters and have instead flown to Malta, including senior colonels in the military.
Two Libyan fighter jets with four military personnel on board landed in Malta, saying they had fled Benghazi after it was taken over by protesters. Two civilian helicopters also landed on the Mediterranean island around the same time, carrying seven people who said they were French nationals working on oil rigs near near the city.
In Cairo, Libya's Arab League envoy said he had resigned to "join the revolution." Tripoli's ambassador to Delhi also quit, as did a lower-level diplomat in Beijing who said Gaddafi may have left the country, Al-Jazeera television reported.
Libya's justice minister, Mustapha Abdeljalil, resigned in objection to "the excessive use of force" against demonstrators, the Quryna newspaper website reported.
By Monday afternoon, a witness saw armed militiamen firing on protesters who were clashing with riot police. As a group of protesters and the police faced off in a neighborhood near Green Square, in the center of the capital, ten or so Toyota pickup trucks carrying more than 20 men — many of them apparently from other African countries in mismatched fatigues — arrived at the scene.
Holding small automatic weapons, they started firing in the air, and then started firing at protesters, who scattered, the witness said. "It was an obscene amount of gunfire," said the witness. "They were strafing these people. People were running in every direction." The police stood by and watched, the witness said, as the militiamen, still shooting, chased after the protesters.
Al Jazeera, Telegraph