Death toll in Libya surges past 200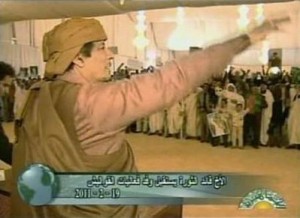 Moammar Gadhafi's forces have opened fire on mourners at the funeral for anti-government protesters in the city of Benghazi, where a doctor says at least 200 people have already been slain in days of demonstrations.
A man shot in the leg Sunday said marchers were bearing coffins to a cemetery when they passed a Gadhafi compound in Libya's second-largest city. The man said security forces fired in the air and then opened up on the crowd.
A hospital official says four people have been wounded, two seriously.
The doctor in Benghazi, who spoke on condition of anonymity because he fears reprisal, said his hospital is out of supplies and cannot treat more than 70 wounded who were hit in the attacks and need attention.
"I am crying," the doctor said. "Why is the world not listening?"
Witnesses told The Associated Press a mixture of special commandos, foreign mercenaries and Gadhafi loyalists went after demonstrators on Saturday with knives, assault rifles and heavy-calibre weapons.
The violence followed days of protests in Benghazi, a focal point of the uprising aimed at toppling Gadhafi after more than 40 years of rule.
Gadhafi forces target funerals
Libyan security forces killed at least 15 mourners and injured dozens of others at a Saturday funeral, according to hospital officials.
New York-based Human Rights Watch previously reported that Libyan security forces killed 84 people in a harsh crackdown on three days of protests.
Internet service was also cut off in Libya in the early hours of the morning on Saturday, according to the U.S.-based Arbor Networks security company, which detected a total cessation of online traffic in the North African country just after 2 a.m. local time.
Getting concrete details about the protests in Libya has been difficult because journalists cannot work freely inside the country. Information about the uprising has come through telephone interviews, along with videos and messages posted online, and through opposition activists in exile.