Protesters take square, Police attacks in Bahrain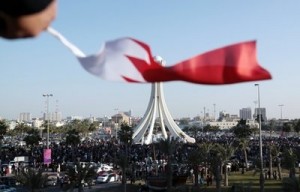 Bahraini troops and armored vehicles on Saturday rolled out of a Manama square that had been a base for anti-government protesters, meeting one opposition condition for a dialogue proposed by the king.
But when a few protesters tried to regain their former stronghold in Pearl Square, police beat them back.
At least 100 riot police took up position, while a group of about 50 demonstrators stood about 50 meters (yards) away.
One man raced to the center of the traffic circle, fell to his knees to kiss the yellowed grass and began praying as other protesters celebrated. Moments later, 10 police cars pulled up and policemen beat up one protester and fired teargas.
At least 100 riot police took up position, while a group of about 50 demonstrators stood about 50 meters (yards) away.
Troops in tanks and armored vehicles took over the traffic circle on Thursday after riot police attacked protesters who had camped out there, killing four people and wounding 231.
Bahrain's crown prince announced that all troops had been ordered off the streets and that police would maintain order.
"That's a very positive step," Jasim Hussain, a member of the main Shi'ite Wefaq bloc that quit parliament on Thursday, told Reuters. "They're trying to ease the tensions. I don't know whether it will be sufficient."
Wefaq had earlier rejected a call by King Hamad bin Isa al-Khalifa for a national dialogue to end the unrest that has rocked Bahrain since Monday, saying troops must be withdrawn first, among other conditions.
Another Wefaq lawmaker said the troop pullout was not enough by itself. "There's no difference if people are killed by the military or by the security forces," said Ibrahim Mattar.
"STOP KILLING PEOPLE"
"We hope to hear a clear message from the government that it will stop killing people who are protesting peacefully."
Mattar said the king must accept the "concept" of constitutional monarchy, as well as withdrawing the military.
"Then we can go for a temporary government of new faces that would not include the current interior or defense ministers."
He reiterated an opposition demand for the king to fire his uncle, Sheikh Khalifa bin Salman al-Khalifa, prime minister since Bahrain gained its independence in 1971.
"We are not going to enter a dialogue as Shi'ites," Mattar said. "They try to put the issue in this frame. The dialogue should be with all people who were protesting. Some are liberal, non-Islamic. Some are Sunni and some Shi'ite."
Shi'ites, who make up about 70 percent of Bahraini nationals feel cut out of decision-making in the Sunni-ruled state and complain of discrimination in access to state jobs and housing.
On Friday, the king offered a national dialogue with all parties to try to end the turmoil fueled by Shi'ite grievances in which six people have been killed and hundreds wounded.
U.S. President Barack Obama spoke to King Hamad on Friday, condemning the violence and urging the government to show restraint and respect the rights of its people.
MILITARY ORDERED TO WITHDRAW
"Crown Prince Salman bin Hamad Al Khalifa, Deputy Supreme Commander of the Armed Forces, has ordered the withdrawal of all military from the streets of Bahrain with immediate effect," a statement said on Saturday.
"The Bahrain police force will continue to oversee law and order."
More than 60 people were in hospital with wounds sustained on Friday when security forces fired on protesters as they headed to Pearl Square, then still in military hands.
Also on Friday, Shi'ite mourners buried the four people killed in the raid on Pearl Square, which protesters had hoped to turn into a base like Cairo's Tahrir Square, the heart of a revolt that ousted Egypt's Hosni Mubarak.
The European Union's foreign policy chief Catherine Ashton voiced concern about reports on violence by the security forces. "I urge the Bahraini authorities to respect fundamental human rights including freedom of expression and the right to assemble freely," she said, appealing to all parties to use restraint.
Young activists had also called for an open-ended strike from Sunday and the closure of all public and private schools on a Facebook page called the "February 14 revolution in Bahrain."
They demanded that protesters be allowed back into Pearl Square, the release of all political prisoners and word on the fate of missing people, as well as the resignations of the defense and interior ministers and the security chief.
A naval base near Manama that hosts the U.S. Navy's Fifth Fleet helps the United States to project power across the Middle East and Central Asia, including Iraq and Afghanistan.
A Fleet spokesman said there was no significant impact on operations and Jennifer Stride, spokeswoman for the U.S. naval base, said no evacuation of families was planned.
The United States is caught between the desire for stability in an ally seen as a bulwark against Iran and the need to uphold the people's right to express their grievances.
The unrest in Bahrain, a minor non-OPEC oil producer and regional banking hub, has shaken confidence in the economy.
In 1999, King Hamad introduced a constitution allowing elections for a parliament with some powers, but royals still dominate a cabinet led by the king's uncle for 40 years.
Reuters