Bahrain: Shi'a opposition rejects negotiations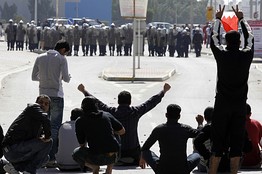 Bahrain's main Shia opposition group has rejected King Hamad's offer of national dialogue to end days of unrest in the Gulf state.
Senior members of the Wefaq bloc said the government must resign first and troops should be withdrawn from the streets of the capital Manama.
Protests demanding greater political rights have been violently suppressed.
At least 50 people were wounded on Friday following the funerals for four protesters killed on Thursday.
King Hamad Isa al-Khalifa had asked his eldest son, Crown Prince Salman, to start a national dialogue to resolve the political crisis.
The prince, who earlier called on protesters to withdraw from the streets, is authorised to talk to all parties, a statement from the ruling house said.
US President Barack Obama has phoned King Hamad to urge restraint.
Bahrain's Shia majority has long demanded greater political representation from the country's Sunni ruling dynasty.
BBC