Sayegh: March 8 coalition is politically bankrupt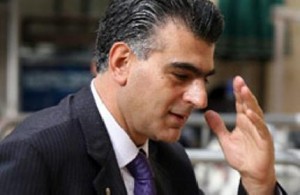 Lebanon's Caretaker Minister of Social Affairs Selim Sayegh told the Free Lebanon radio station on Friday ; "The March 8 coalition is politically bankrupt because it is not able to present a new [agenda] in its Ministerial Statement "
Sayegh added that Labor Minister Boutros Harb – with March 14's approval – is the one following up on the issue of cabinet formation with Prime Minister-designate Najib Mikati.
in a related development sources told An Nahar newspaper that the process of the government formation has gone back to "square one" .
The newspaper ruled out the possibility of having a cabinet line-up ready by the end of February, saying Free Patriotic Movement leader Michel Aoun's demands are crippling the government formation process despite efforts by some teams from the March 8 forces to facilitate Miqati's task.
Aoun said in an interview on OTV on Wednesday that his parliamentary Change and reform bloc represents 40 % of the new majority and for this reason he wants 13 cabinet portfolios out of the proposed 30 in the new cabinet .
Commenting on his dispute with President Michel Suleiman over the ministry of interior
Aoun said he won't let the president have any portfolio.
" The issue of the president's share (in cabinet) is a farce that is not subject to any constitutional provisions or the criteria of popular support, and personally I won't give Suleiman any portfolio as he hasn't been a consensual president."
Similarly MP Nabil Nicolas, a member of Aoun's Free Patriotic Movement told New TV on Friday: "Why would the president be given a share in the cabinet if there is a single team in the government?" . Nicolas in his statement is confirming that only the Hezbollah-led March 8 alliance will form the cabinet , even though Mikati is still talking to March 14 leaders to convince them to join.
According to observers Hezbollah is the one that wants the ministry of interior because it is the ministry that is in charge of internal security in the country, but is hiding behind Aoun in its demand , knowing it has him under complete control.