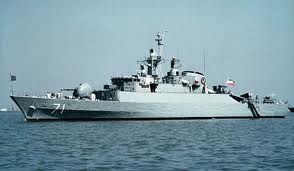 State media announced Friday Egypt has agreed to let 2 Iranian naval vessels transit the Suez Canal, a move that could pose the first diplomatic dilemma for Egypt's new rulers after Israeli officials had expressed concern about the vessels.
State-run news agency MENA said Friday that authorities approved a request from Iranian diplomats who offered assurances that the two ships won't carry weapons or nuclear or chemical material.
Iranian officials have insisted the request is in line with international regulations. They say the two vessels are headed to Syria for training.
Observers have said this is the first time since Iran's 1979 Islamic Revolution that Iranian warships are attempting to pass through the Suez Canal, which links the Red Sea and the Mediterranean.
There had been contradictory reports on whether Egyptian authorities were considering the request, but state TV said Friday the Defense Ministry was reviewing the case.
Egypt has been run by an army-led transition government since last week's ouster of President Hosni Mubarak in a popular uprising.
A Suez Canal official said Egypt can only deny transit through the waterway in case of war.
Earlier this week, Israeli Foreign Minister Avigdor Lieberman said Iran's attempt to send warships through the canal is a provocation.
Israel considers Iran a threat because of its disputed nuclear program, ballistic missile development, support for militants in the region and its threats to destroy Israel. WSJ
This error message is only visible to WordPress admins
Error: No connected account.
Please go to the Instagram Feed settings page to connect an account.