Aoun's obstructive demands preventing Cabinet formation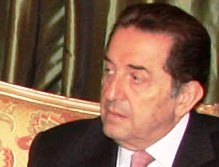 Free Patriotic Movement leader MP Michel Aoun is trying to "impose conditions" on Prime Minister-designate Najib Mikati and President Michel Sleiman, Labor Minister Boutros Harb said on Saturday.
Mikati's difficulties with his own March 8 backers pose a greater obstacle to the cabinet formation than do his ongoing talks with the March 14 coalition, Harb said after meeting with UNRWA officials, the National News Agency (NNA) reported.
Harb asserted that March 8 forces are practicing a "kind of silence" about Aoun's obstructive demands, which infringe on the premier-designate's and president's powers.
Harb also addressed press reports that if Mikati fails to form a cabinet with March 8, he could form one with March 14 and Progressive Socialist Party leader MP Walid Jumblatt, saying the scenario is a possibility but "the probability of it happening is small."
"However, if the intransigence of some March 8 teams continues, along with refusal [of their demands] from the president and premier-designate, it is natural that […] the president or premier-designate resort to replacing this situation with another."
"PM Mikati would then either apologize and say he cannot form the cabinet because those who nominated him did not facilitate his mission, or use the scenario that An-Nahar newspaper mentioned this morning by studying an alliance with March 14."
Mikati was appointed to the premiership on January 25 with the Hezbollah-led March 8 coalition's backing and has called on all parties to join his cabinet.
Aoun is reportedly demanding certain ministerial portfolios – in particular the Interior Ministry – while other March 8 parties reportedly oppose this demand.