Drill: Assad accuses Israel of trying to ignite war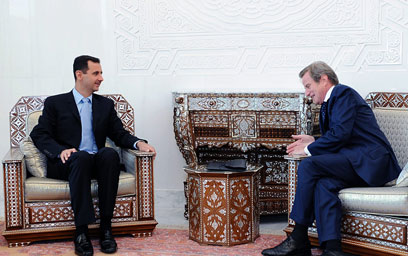 Syrian president Bashar al assad wo met on Sunday with the visiting French foreign minister Bernard Kouchner in Damascus was very critical of the Israeli drill and pleaded with the West to restrain Jewish state 'in light of its dangerous tendencies and attempts to spark wars and conflicts, ' he said.
"It's unthinkable that the West keeps silence in light of the Israeli aggression," Assad said.
According to official news agency SANA, the Syrian president noted that if the West is interested in security and stability in the Middle East, it must "start filling an active role in order to restrain Israel and its radical and dangerous tendencies towards security and peace in the region."
Commenting on the issue of resistance Assad said the ongoing Israeli threats to ignite wars and undermine the stability in the region, " he said that "the West must understand that the region has changed and that the language, policy and approach used by the countries in the past in regards to the region are no longer acceptable, as is the silence towards Israel's violations and its attempts to spark wars and conflicts."
Following his stop in Syria Kouchner headed to Lebanon and met with Lebanese president Michel Suleiman .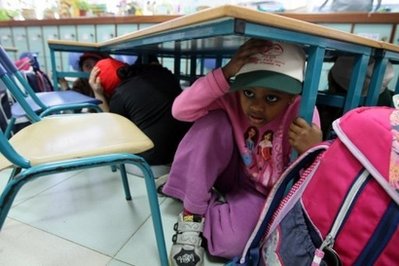 Israeli schoolchildren taking cover under their desks during an emergency drill
Israel has launched a five-day nationwide defense drill to prepare the public for emergencies.