Suleiman: France always stood by Lebanon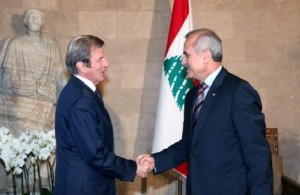 French Foreign Minister Bernard Kouchner who is currently visiting Lebanon held talks with President Michel Suleiman at the Baabda Palace.
Earlier on Sunday, Kouchner met with Syrian President Bashar al-Assad, during which he appealed for all sides to respect UN Security Council Resolution 1701.
His visit is part of a Middle East tour that includes stops in, Egypt , Lebanon , Syria and Turkey.
Following the talks he reiterated "France's friendship and support for Lebanon," stressing that France will always stand by Lebanon. He vowed to pursue "cooperation and assistance, especially at the military level."
During the meeting, Kouchner highlighted "the role of the United Nations Interim Force in Lebanon (UNIFIL) and its close cooperation with the army," hoping both sides would continue and strengthen this cooperation.
"Minister Kouchner informed the president that his regional tour aims to ease recent tension, which began to decline over the past few days especially as concerns Israel's threats," Suleiman's office said after the meeting. The statement added : " Mr. Kouchner said efforts should be made to kick-start negotiations in the Middle East on the basis of the Madrid Conference and the 2002 Arab Peace Initiative, according to a statement issued by the president's office.
Suleiman reportedly thanked France for its continued support for Lebanon and for the historic relations that bind both countries saying" France always stood by Lebanon"