Why Trump is called the 'American Duterte'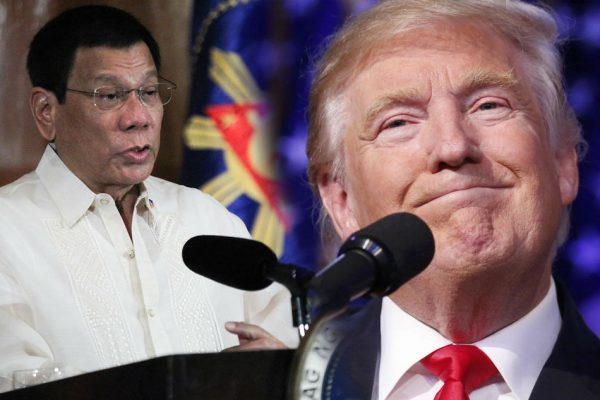 Even before real estate tycoon Donald Trump cemented his way to the White House, his controversial and inflammatory statements during the campaign made analysts and critics draw parallels between him and Philippine President Rodrigo Duterte.
Duterte has been called the "Filipino Trump," and Trump the "American Duterte." Whether their supposed similarities will play out well for both the US and Philippines remains to be seen, however, especially in light of Duterte's hostile policy towards the US.
But do the parallelisms between the two controversial figures have basis?
Below are some similarities between Duterte and Trump, based on the statements of the two leaders:
POPULIST MEASURES
The first, and obvious, similarity between Duterte and Trump is the fact that they survived their respective, but both grueling, election campaigns after hurdling a slew of controversies.
Analysts attributed their victories to Trump's and Duterte's promises and statements which resonated the most with the voters.
Duterte, considered a political outsider in Philippine politics, rose to power by throwing a spotlight on the weaknesses of a government dominated by the elite. He also focused on a singular platform – effecting "change" by destroying criminality and illegal drugs.
Trump, on the other hand, appealed most to working-class White voters through his tough immigration and protectionist policies.
Both employed bellicose rhetoric for their campaign messages that were headline-grabbing.
SOCIAL MEDIA
Trump and Duterte also shared a secret weapon on their respective paths to the presidency – social media.
No election in Philippine history harnessed the power of social media more than in the May 2016 presidential elections. In the US, it was also in play again in this year's polls.
The use of social media both helped Duterte and Trump.
Trump was a savvy Twitter user. Through this platform, he was able to reach out to his supporters and, as The Telegraph reported, save $3.4 billion in media coverage.
Duterte, while not as prolific as Trump on the use of social media, made his way to the presidency with the help of his legions of supporters on social media.
Duterte's online supporters, derogatorily called "Dutertards", continue to be active as they defend the president online.
ON TREATMENT OF WOMEN
Both Duterte and Trump have their fair share of criticisms with regard to their statements and actions towards women.
Duterte was broadly criticized during the campaign for his remarks on an Australian rape victim.
In a statement that almost cost him the presidency, Duterte said "he should have been first" in reaction to the raping of an Australian missionary in Davao City in 1989.
Trump, meanwhile, was accused by several women of groping and making inappropriate remarks. His reputation as a misogynist reached new heights when a recording of his lewd comments about women, taped in 2005, surfaced.
THE MEDIA
Duterte and Trump's relationship with the media were undoubtedly not smooth, with both leaders calling out the latter for allegedly being corrupt.
Before officially assuming the presidency in June, Duterte drew flak for saying that only corrupt journalists get killed.
Duterte and his officials have also accused the Philippine media of "spinning" stories to put the president in bad light.
Trump and his supporters have also accused the US media of lying.
"See the dishonest people back there?" Trump said on his final day of campaigning, as quoted by The Washington Post. "The media, they're totally dishonest. They are so dishonest."
PRAISING PUTIN
Both Trump and Duterte have been criticized for expressing their admiration of Russian President Vladimir Putin, a strong figure who has sparred with the US on many issues in the international scene.
In declaring his shift away from the US, Duterte said he would like to forge an alliance with Russia, calling its leader his "idol".
But Trump's relationship with Russia is more troubling as it supposedly undermines US interests, if his critics were to be asked.
Trump once called Putin a better leader than outgoing US President Barack Obama.
Trump has also defended some of Putin's acts, including the Russian annexation of Crimea from Ukraine and intervention in Syria.
At a time when he was leading the Republican nomination, Trump said he thinks he "would get along very well with Vladimir Putin."
Also bolstering critics' claims that Trump was harboring pro-Russia sentiment were reports that his erstwhile campaign chairman, Paul Manafort, had links to pro-Russian entities in Ukraine.
ON AUTHORITARIAN LEADERS
Another similarity between the two leaders is their praising of autocratic leaders.
Trump was criticized after saying in a July 5 rally that fallen Iraqi leader Saddam Hussein "did well" in suppressing dissent. He also said that the world would be "100 percent better" if dictators like Hussein and the late Libyan leader Moammar Gaddafi were still alive.
Duterte, on the other hand, has praised autocratic Middle Eastern leaders and criticized the US for its interventions in the troubled region.
He said the US "imported terrorism" and pulled Muslim nations apart.
"Sinira nila ang Middle East e. Sino ba naman si Saddam? He was one dictator but he was in firm control of the country," Duterte said in a July 8 speech.
BS-CBN