Hezbollah and its Lebanese allies react positively to Trump's election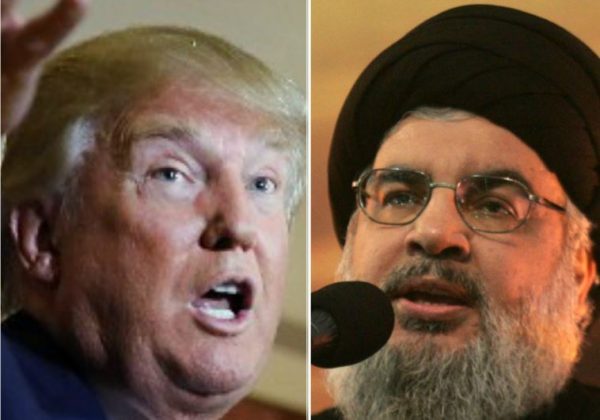 Some Lebanese leaders reacted    positively to Donald Trump's surprise win in the U.S. presidential election, but Hezbollah and its allies were the most positive.
The Iranian backed Hezbollah was positive about Trump's victory but for different  reasons
Hezbollah MP Nawwaf Musawi  said he was optimistic about Trump's isolationist foreign policy.
"The more the U.S. policy turn towards isolationism, the more relieved the world would be from its evil," he said after a weekly meeting with Speaker Nabih Berri.
And an  ally  of Syrian president Bashar Al Al Assad called Trumps's victory phenomenal
When asked about Trump's win, Baath party MP Qassem Hashem said it was "definitely phenomenal."
Former Minister of Foreign Affairs Adnan Mansour , who represented Speaker Nabih  Berri in a former cabinet said that Trump no longer speaks as a candidate, but as a statesman who has expressed his openness to everyone.
A Hezbollah ally and key member of   Change and Reform bloc compared Trump's victory to that of FPM founder Michel Aoun
MP Alain Aoun praised the Trump victory in a tweet, saying "within two weeks, two non-traditional presidential candidates, opposed by the classical political class, were brought [to power] by popular will."
Aoun was elected on Oct. 31 as Lebanon's 13th head of state, ending 2-1/2-year presidential vacuum.
FPM official and Foreign Minister Gebran Bassil also congratulated Trump and the American people on Twitter.
Another Hezbollah ally  Tawhid Party Chief Wiam Wahhab  praised Trump .
He called Trump an "honest man," also on Twitter, and in a separate tweet joked that his election would "end all sanctions issued by (Chouf) Jahilieh municipality against U.S. presidents that were issued in the days of (former President George W.) Bush."
Wahhab, a pro-Syrian official, along with Assaad Halim Hardan, Hafiz Makhluf – a senior Syrian intelligence official who is a cousin of Syrian president Bashar Assad – and Mohammad Nasif Khayrbik, were targeted by the U.S. sanctions in 2007.
The sanctions froze all U.S. assets belonging to the four and prohibited American citizens from engaging in transactions with them.
Lebanese Prime Minister-designate Saad Hariri  who heads up the Future Movement sent a letter of congratulation to the president-elect, in which he assured Trump that Lebanon would remain committed working with the new administration to reach a common understanding on regional issues.
"You leadership is necessary to ensure stability, security and peace in the Middle East," Hariri wrote.
On the other hand the head of the Future  Movement parliamentary bloc, former PM Fouad Siniora, however was more cautious about the Trump victory.
"The newly elected U.S. president should understand the reality of what is going one in the [Middle East] region," he said during a visit to Sidon, hoping for effective solutions to regional challenges.