A new Food Safety Training Center Launched in Lebanon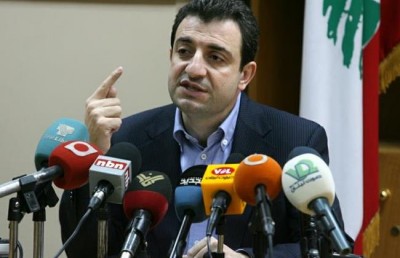 A center for training workers on food safety measures was launched on Wednesday during a conference at the Chamber of Commerce, Industry and Agriculture in Beirut's Hamra district.
Several Ministers and Economic Committees attended the event.
Industry Minister Hussein Hajj Hassan stressed during the conference that his ministry will obligate all factories to register their workers in free obligatory courses related to the food safety process.
"What we are doing today is a continuation of the campaign against corruption and negligence," Hajj Hasan said in reference to Health Minister Wael Abu Faour's campaign on food safety violators. "We will compel all factories to send their workers to free, but mandatory, training on food safety."
He stressed that the conference and training center comes in light of the food safety campaign.
Head of Economic Committees Adnan Qassar called on the parliament to swiftly endorse the food safety draft-law.
In November, the joint parliamentary committees formed a 15-member subcommittee to tackle the food scandal, granting it a 15-day ultimatum to draft a food safety law.
Health Minister Abu Faour, who was the first to kick off the food safety campaign in November, stressed that he intentionally named the violating institutions but never aimed at shaming any institution or generalizing accusations against all companies.
"This move puts us on one common path that we should all be taking for the sake of food safety," Abu Faour said. "Contrary to some people's claims that this campaign aims at ruining the economy, it has one goal: [protecting] the health of the citizen, institutions and safety of food."
He addressed the violating companies who threatened to move [their factories] abroad," by saying: "Will foreign states allow you to work with the same [unsafe] conditions?"
He vowed to continue the food safety campaign, pointing out that "supervision will go on to protect the health of the citizens."
Abu Faour launched last month a nation-wide campaign targeting food institutions such as slaughterhouses, restaurants, food shops and other establishments violating food safety standards. The campaign led to the temporary or permanent closures of many companies, but received wide popular and political support.
But some officials criticized the campaign including Industry Minister Hajj Hassan.
On Monday he criticized the health ministry's food safety campaign for what he said was the negative impact it has had on the economy and food exports. "The impact on [business revenues], when fabricated and illogical information is released, incurs great damage to the owners of institutions, to the extent that they are destroyed economically," he said in a news conference. The campaign has mostly delivered accurate information with regards to the violators but "not all cases" are true, he added.
Hajj Hasan also noted that once a company is blacklisted, it is very difficult for it to bounce back even after they clear their violations because good news does not generate media attention.
Hajj Hasan said that the food safety campaign has conveyed a "distorted image" of Lebanese production, specially since a very small number of establishments were violating the food safety standard .