4 Killed in Jerusalem Synagogue Complex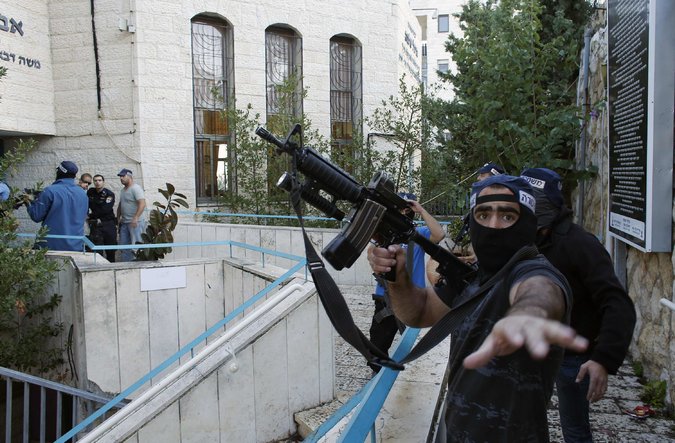 Two assailants armed with a gun, knives and axes stormed a synagogue complex in an ultra-Orthodox Jewish neighborhood of West Jerusalem on Tuesday morning, killing at least four worshipers during morning prayers, according to the police. The attack was one of the deadliest in the city in several years.
Police officers who arrived at the scene shot and killed the attackers. Within two hours, Israeli security forces had stormed Jabel Mukaber, the Palestinian neighborhood of East Jerusalem where the assailants were believed to have lived, spraying tear gas at their family home and into hills of olive trees.
A neighbor identified the attackers as Odai and Ghassan Abu Jamal, who were cousins. She said that Ghassan was in his 30s and had two children, and that Odai was in his 20s and unmarried.
Micky Rosenfeld, a spokesman for the Israel police, said an investigation was underway to see whether the suspects were "affiliated with any terrorist organization like Hamas or Islamic Jihad." Ynet, an Israeli news site, said the two were related to one of more than 1,000 Palestinians released from Israeli prisons during a 2011 exchange for an Israeli soldier who was captured five years earlier by Hamas.
Prime Minister Benjamin Netanyahu of Israel called the attack "the direct result of the incitement" led by Hamas, the militant Palestinian faction, and by President Mahmoud Abbas of the Palestinian Authority, and set a security consultation for noon. "We will respond with a heavy hand to the brutal murder of Jews who came to pray and were eliminated by despicable murderers," he said in a statement.
Mr. Abbas condemned "the killing of civilians from any side" and "the whole cycle of violence," according to Wafa, the official Palestinian news agency. It was his first official condemnation of violence during the recent spate of deadly attacks in Jerusalem, Tel Aviv and the West Bank.
At least a dozen others at the synagogue were wounded, according to the director of Magen David Adom, the Israeli ambulance service. Two, including a police officer, were in critical condition and two others were in serious condition at Hadassah Hospital, a spokeswoman said.
The target of the attack was Kehilat Bnei Torah, a complex that houses several synagogues on a quiet street in the Har Nof neighborhood.
"This is a central synagogue in the neighborhood," Aryeh Deri, a legislator from the Shas party who lives in Har Nof, told Israel Radio. "Jews who came to pray are lying on the synagogue floor in their tefillin and tallit," he added, referring to ritual phylacteries and prayer shawls.
The attack came at a time of heightened tensions in Jerusalem fueled in large part by a dispute over a sensitive holy site in the Old City known to Muslims as the Noble Sanctuary and to Jews as the Temple Mount.
In recent weeks, Palestinian individuals have carried out several vehicular assaults and stabbings against Israelis in Jerusalem, the West Bank and Tel Aviv, killing three civilians, a soldier and a border police officer. In another episode, a Palestinian gunman from East Jerusalem attempted to assassinate a prominent Jewish activist who has pushed for more Jewish access and demanded that Jews be allowed to pray at the holy site. The gunman was later killed in a shootout with the police; the Jewish activist, Yehuda Glick, survived.
Tensions rose again in the city on Monday after a Palestinian driver for an Israeli bus company was found hanged in his bus. The driver's family said that he had been the victim of a lynching by Jewish extremists, setting off riots in the driver's neighborhood, though the police said an autopsy, which was also attended by an expert of the family's choice, found that there had been no foul play and ruled the death a suicide.
Officials at Israel's Health Ministry and police officers said that evidence from the scene and from the autopsy confirmed the death was a suicide, but declined to describe the evidence. Ma'an, an independent Palestinian news agency, said the Palestinian doctor who had attended the autopsy had seen signs of a possible homicide, including where the blood settled after death.
Friends of the dead driver, Yousef al-Ramouni, and other drivers disputed the finding of suicide, saying that they had seen bruises on his body that suggested he had been attacked. They described the driver as a happy father of two who had recently asked to be given a new bus route after being abused by Jewish riders.
Press officers for Hamas quickly praised the attack Tuesday as justifiable revenge for the driver's death.
"The new operation is heroic and a natural reaction to Zionist criminality against our people and our holy places," a Hamas spokesman, Mushir al-Masri, wrote in a Facebook post. "We have the full right to revenge for the blood of our martyrs in all possible means."
Another Hamas spokesman, Sami Abu Zuhri, called for "revenge acts to continue in Jerusalem."
Secretary of State John Kerry, who was in London on Tuesday, denounced the attack as a "pure act of terror" and called on Palestinian leaders to condemn it.
"I call on the Palestinian leadership at every single level to condemn this in the most powerful terms," Mr. Kerry said before meeting with his British counterpart.
Mr. Kerry said that he had discussed the attack with Mr. Netanyahu by phone Tuesday morning, and that it was particularly egregious because it followed a recent meeting in Amman, Jordan, in which the Israeli leader had sought to ease tensions by restoring access to a Muslim holy site in Jerusalem.
Mr. Kerry called Mr. Abbas from London to express support for his statement condemning the attacks and to urge him to do everything possible to de-escalate tension. He agreed to stay in close touch with both leaders.
Mr. Abbas, in his statement on Wafa, said he remains "committed to the understandings" reached in Amman. He also reiterated his call to "stop the incitement against Aqsa," referring to the holy site, and to end Israel's occupation of Palestinian territory.
In Gaza, some people celebrated by shooting in the air, and praise for God and the so-called martyrs poured from mosque loudspeakers. "God is great," the call said. "We praise God for the victory and dignity in Jerusalem and we say the martyrs are now in paradise."
Right-wing Israeli politicians blamed Mr. Abbas of the Palestinian Authority for the attack. They say that Mr. Abbas has been fomenting violence by accusing Israel of trying to change the status quo at the holy site, at which non-Muslims are allowed to visit only during certain hours and are not to pray openly.
Mr. Netanyahu has repeatedly said that he does not intend to change the rules, but members of his Likud Party and ministers in his government are among those who have supported legislation calling for increased Jewish access and prayer and who have visited the site, fueling tensions.
"The hands that held the axes are of the terrorists but the voice is the voice of Abu Mazen," declared Yuval Steinitz, the minister of strategic affairs, using an alternate name for Mr. Abbas. "Whoever calls on Muslims to defend the mosque in Al Aqsa using all the means against Jews bears direct responsibility for the horrific pogrom at the synagogue in Har Nof and all the attacks and deadly riots in Jerusalem."
In a statement, Naftali Bennett, the economy minister and head of the Jewish Home party, called Mr. Abbas "one of the greatest terrorists the Palestinian people sprouted" and said he "bears direct responsibility for Jewish blood spilled in tallit and tefillin."
Avigdor Lieberman, Israel's foreign minister, said Mr. Abbas had "deliberately turned the conflict into a religious conflict between Jews and Muslims."
"The international community should condemn Abbas's anti-Semitic statements, which lead to terrible massacres as happened this morning," he said in a statement, "and make it clear that those who act in this way cannot be seen as a legitimate political figure."
Witnesses told Israel Radio that they heard 15 to 20 gunshots as police officers battled the attackers around 7 a.m., while people at morning prayers tried to take cover.
"He crouched under a chair, blood spattered on him from the person who sat in front of him, he fainted," Rabbi Shmuel Pinchas said of his 13-year-old grandson, who prays at the synagogue daily. "People were in the middle of prayer and people could not respond. There is nowhere to hide as the synagogue is closed on all sides."
Tuesday's attack was the deadliest on Israeli civilians in more than three years, and reminiscent of the 2008 killing of eight students at Mercaz Harav, a prominent yeshiva in the heart of Jerusalem. In 2011, eight Israelis were killed and more than 30 wounded in attacks on buses near the southern resort city of Eilat, and five members of the Fogel family were stabbed to death inside their home in the West Bank settlement Itamar.
Yehuda Meshi Zahav, the founder of Zaka, an ultra-Orthodox disaster-response group, said the setting made the attack all the more painful.
"I've seen incidents with many more killed," he told Israel Radio, "but to see this difficult scene of Jews wrapped in their tallit, and tefillin on the arms and heads, wallowing in huge puddles of blood inside a synagogue with dozens of holy books on the floor — these are scenes we only saw during the Holocaust."
NY Times