Rouhani: Iran may cooperate with U.S. in Iraq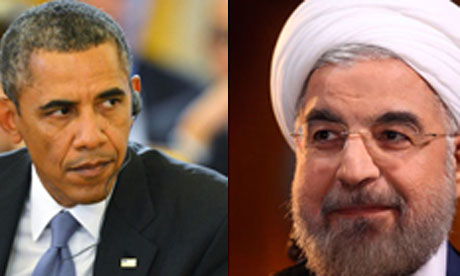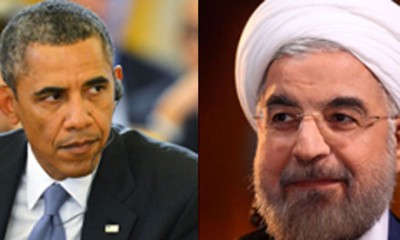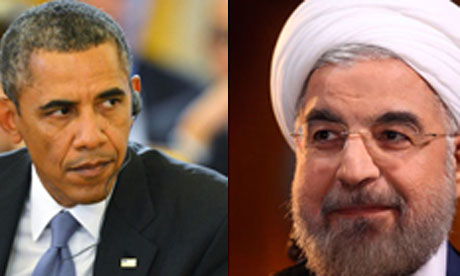 Iran may consider cooperating with the United States in fighting Sunni extremist fighters in Iraq if Washington acts against them, President Hassan Rouhani told journalists Saturday.
He was responding to questions of whether mutual interests in fighting terrorism could possibly bring together Tehran and Washington — traditional foes that have had no diplomatic relations in more than three decades.
"If we see that the United States takes action against terrorist groups in Iraq, then one can think about it," Rouhani said at a press conference marking a year since he was elected president.
Both Iranian and American leaders have separately pledged support for the government of Iraqi Prime Minister Nuri al-Maliki in fighting advancing fighters from the Islamic State of Iraq and the Levant (ISIL).
"We have said that all countries must unite in combating terrorism. But right now regarding Iraq we have not seen the Americans taking a decision yet," Rouhani said, mentioning that problems in neighbouring Syria have been made worse by Western support for rebels there.
On Friday, US President Barack Obama said Washington was considering options over Iraq short of sending troops.
"We will not be sending US troops back into combat in Iraq, but I have asked my national security team to prepare a range of other options that could help support Iraqi security forces," he said.
Rouhani said Iran is ready to help Iraq, if asked.
"No specific request has been put forward, but we are prepared to help — within the frameworks of international regulations — if there is a request," he said.
Rejecting notions that Iran could intervene militarily, Rouhani did not elaborate but suggested the help could be in the form of providing Iraq with military advisers.
Iran is already in Iraq
Rouhani is claiming that he is ready to help Iran but according to Iranian security officials , Iran has already deployed Revolutionary Guards units to Iraq,
the Wall Street Journal reported on Friday.
Two Guards' units, dispatched from Iran's western border provinces on Wednesday, were tasked with protecting Baghdad and the holy Shiite cities of Karbala and Najaf, these Iranian security sources said.
The involvement of Iran would pose yet another security challenge for the White House, and raises the prospect of the U.S. and Iran fighting on the same side. The U.S. opposes Iran's support for Syrian President Bashar al-Assad, but with Tehran is jointly supporting Iraqi Prime Minister Nouri al-Maliki.
State Department officials on Thursday refused to outline what steps the Obama administration would take if Iranian forces entered Iraq.
Spokeswoman Jen Psaki said American diplomats who met with Iranian officials in Geneva this week to discuss Tehran's nuclear program didn't raise the issue of the Iraqi crisis.
"We've encouraged them to play a constructive role in Iraq," Ms. Psaki said about the Iranians.
Iran has invested considerable financial, political and military resources over the past decade to ensure Iraq emerged from U.S. war as a strategic partner for the Islamic Republic and a strong Shiite-led state. The so-called Shiite crescent—stretching from Iran to Iraq, Lebanon and Syria—was forged largely as a result of this effort.
Syria's conflict has turned Iraq into an important operational base for Iran to aid another ally, the Assad regime, which is dominated by an offshoot of Shiite Islam. Shiite militia trained by Iran, weapons and cash have flowed from Iran to Syria via Iraq.
"Iraq is viewed as a vital priority in Iran's foreign policy in the region and they go to any length to protect this interest," said Roozbeh Miribrahimi, an independent Iran expert based in New York.
Iran has also positioned troops on full alert along its border with Iraq and has given clearance to its air force to bomb ISIS rebel forces if they come within about 60 miles of Iran's border, according to an Iranian army general.
The two IRGC battalions that moved to Iraq on Wednesday were shifted from the Iranian border provinces of Urumieh and Lorestan, the Iranian security officials said.
Revolutionary Guards units that serve in Iran's border provinces are the most experienced fighters in guerrilla warfare because of separatist ethnic uprisings in those regions. IRGC commanders dispatched to Syria also often come from those provinces as well.
According to reports from Lebanon the Iranian backed Hezbollah militant group was ordered by the commander of the Iranian Revolutionary Guards, Qassem Suleimani to send thousands of fighters to Syria to replace the Iraqi militia group Abou Fadl al Abbas brigade which was ordered to to go back to Iraq to help the Iraqi regime of Nouri al Maliki in its fight against the Islamic State of Iraq and Syria (ISIS).
The Abou Fadl al Abbas brigade was tasked with protecting the Shiite holy sites in Syria according to the report.
ISIS's rapid territorial gains in the past few days appeared to have caught Iranian officials by surprise and opened a debate within the regime over whether Iran should publicly enter the battle.
Obama :No reforms, no U.S. aid
Iraqi leaders must make a "serious and sincere effort" to set aside sectarian differences if they want military assistance from the United States, President Barack Obama warned Friday.
The U.S. is ready to provide additional military assistance to Iraq, Obama said, although he ruled out sending troops. However, he said the aid was conditional on the Iraqi government's willingness to solve political problems.
Without mentioning Prime Minister al-Maliki by name, Obama criticized the Iraqi leader in an address Friday from the South Lawn of the White House.
"We are not going to be able to do it for them," Obama said and added "the U.S. had gone to "extraordinary measures" to give Iraqis the opportunity for success."
He has said that he is weighing "all the options" and has not ruled out airstrikes. But he said, "We will not be sending U.S. troops back into combat in Iraq."
YAHOO/AFP/WSJ/YL