Confusion over the identity of the dead Iranian commander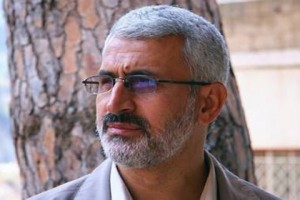 An Iranian Revolutionary Guard commander has been killed inside Syria by rebels battling Iran's close ally President Bashar Assad. The commander was identified as Gen. Hassan Shateri, by several Iranian websites
But the Iranian embassy in Lebanon identified the dead man as Hessam Khoshnevis and said he was in charge of Tehran's reconstruction assistance in Lebanon. It said he was killed by "armed terrorist groups," a label used by the Syrian government to describe Assad's foes, on Beirut Damascus road as he was returning from Damascus.
Public relations official of the "Iranian Revolutionary Guards" Brigadier General Ramadan Sharif cleared the confusion. It appears that the commander's real name is Hessam Khoshnevis but his title is Hassan Shateri.
A Syrian opposition commander said the attack was carried out by rebel fighters near the Syrian town of Zabadani, close to the Lebanese border.
Syrian rebels have repeatedly accused Tehran of sending fighters to help Assad crush the 22-month-old uprising, a charge Iran has denied.
Iran has strongly backed Assad during the uprising in which the United Nations says nearly 70,000 people have been killed. In September Iran's Revolutionary Guard commander in chief said the force was providing non-military support in Syria and may get involved militarily if there is foreign intervention.
Last year Syrian rebels kidnapped 48 Iranians who they said were Revolutionary Guard fighters, and authorities in Tehran described as pilgrims. They released them this year in a prisoner swap with Syrian authorities.