Iranian commander killed in Syria on his way to Lebanon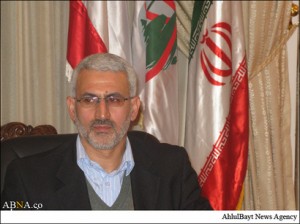 The Iranian Embassy in Lebanon reported that the head of the "Iranian agency responsible for rebuilding Lebanon" was killed on the Beirut-Damascus road but did not reveal any other details .
According to a report by Hezbollah's Al-Manar TV the Iranian official was killed on Syrian soil on his way back from Damascus to Lebanon.
Other media reports revealed that the official , who was not named was a senior commander of Iran's Revolutionary Guard .
An Iranian independent news website – mashreghnews.ir identified the Iranian official as Gen. Hassan Shateri, and revealed that he is a commander in the Guard's Quds Force.
The website added that Gen. Ghasem Soleimani, the head of the Guard's Quds Force, visited Shateri's family to express his condolences. The website did not provide additional details about his death.
The Quds Force is Iran's main organization dealing with international activity with the cooperation of several different other organizations which are backed by Iran.
Militia in Syria
Iran and Hezbollah, its Lebanese proxy, are building a network of militias inside Syria to preserve and protect their interests in the event that President Bashar al-Assad's government falls or is forced to retreat from Damascus, according to U.S. and Middle Eastern officials.
The militias are fighting alongside Syrian government forces to keep Assad in power. But officials think Iran's long-term goal is to have reliable operatives in Syria in case the country fractures into ethnic and sectarian enclaves.