Israeli PM warns that Iran is closer to making the bomb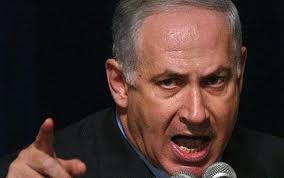 Israeli Prime Minister Benjamin Netanyahu said on Monday that new centrifugesIran was installing for its uranium enrichment program could cut by a third the time needed to create a nuclear bomb.
As Iran and world powers prepare to resume talks aimed at easing a dispute that has raised fears of a new Middle East war, Tehran announced late last month it planned to install the new machines at its main enrichment plant.
The move underlined Iran's defiance of international demands to scale back the uranium enrichment which Tehran says is for civilian purposes but which could also potentially be used to make material for atomic bombs.
Netanyahu touched on the subject in an address to American Jewish leaders and his words came ahead of a planned visit to Israel next month by President Barack Obama.
"Iran's … nuclear weapons program continues unabated … I drew a line at the U.N. last time I was there," Netanyahu said. "They haven't crossed that line but what they are doing is to shorten the time that it will take them to cross that line and the way they are (doing it) is by putting in new, faster centrifuges that cut the time by one third."
In a speech to the U.N. General Assembly in September, Netanyahu gave a rough deadline of summer 2013 as the date by which Iran could have enough highly enriched material to produce a single nuclear bomb.
He said on Monday that world powers must put more pressure on Tehran "for the interests of peace and security".
"You have to upgrade the sanctions and they have to know that if the sanctions and diplomacy fail, they will face a credible military threat. That's essential. Nothing else will do the job, and it's getting closer," he said.
Diplomats believe, however, that Iran may have resumed converting small amounts of its higher-grade enriched uranium into reactor fuel thereby slowing a growth in stockpiles that could be used to make weapons.
The White House announced last Tuesday that Obama planned to visit Israel, the West Bank and Jordan this spring. It gave no exact dates for the trip, Obama's first to Israel since taking office.
Netanyahu, who was last week nominated to form a new government after January 22 elections that his rightist Likud party won, has said Iran would top his administration's agenda. He has five more weeks to complete forming his new coalition.
Israel's Channel 10 television cited unnamed sources in Washington last week saying Obama's visit to Israel would start on March 20, by when Netanyahu's new government should be in place.
Israeli political commentators have speculated that Obama had opted to visit Israel before the summer deadline that Netanyahu laid down at the United Nations to caution him against any go-it-alone attack against Iran's nuclear facilities.
Reuters