Who will be Pope Benedict' s replacement ?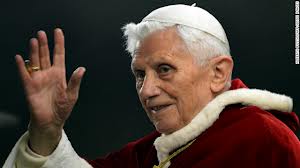 Technically, any male Catholic is eligible to be elected pope. But traditionally, the cardinals choose one of their own.
For the princes of the church — the cardinals — the sudden resignation of a pope can be more of a shock than the death of one. And it is they who now have to choose the next one.
According to retired American cardinal Theodore McCarrick, the church will now be looking for a new pope with a combination of the qualities it liked in the last two.
"I think they'll be looking for someone who would have some of the wisdom of Pope Benedict and some of the charisma of Pope John Paul the second," said Cardinal Theodore McCarrick.
In the murky world of Vatican politics, no clear front-runner to replace Benedict has emerged.
The church has come to see its future more and more in the developing world, and it will have to decide whether its next leader should be from there.
Cardinal Peter Turkson of Ghana is a campaigner for social reform and is often cited as a leading African candidate. But the 64-year-old has already stumbled on the issue of the church's relations with Islam and is seen as a risky choice.
The highest profile potential candidate from Latin America may be the 63-year-old Archbishop of Sao Paolo Brazil, Cardinal Odilo Pedro Scherer. But the church has yet to demonstrate it is ready for a South American pope, and he is thought to be a long shot.
There are long odds as well for Cardinal Timothy Dolan, the Archbishop of New York. But any American candidate would have to overcome the church's traditional reluctance to elect a super-power pope.
If the church reverts to an Italian, Cardinal Angelo Scola, the 71-year-old Archbishop of Milan, is a popular figure, as is Cardinal Gianfranco Ravasi. But each has drawbacks, as well.
But the choice will likely have more to do with the approach to the issues than to geography.
"It's a complicated world the new Holy Father faces, as it was with the last Holy Fathers. But the complications do not ease up, they seem to multiply," said McCarrick.
CBS News