Harb to File a Lawsuit against Judge Madi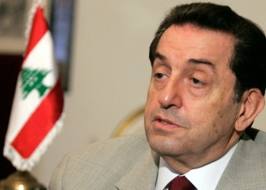 MP Butros Harb condemned on Tuesday General Prosecutor Judge Hatem Madi's request to strip him of his parliamentary immunity and accused him of collaborating with Hezbollah to cover up the perpetrator in the assassination attempt against him.
During a press conference Harb said: "I will file a lawsuit against Madi and I will make his case an example to introduce reform in Lebanon".
"I will request that parliament strip me of my immunity in order to allow me to confront Madi," he said
"I call on Madi to confront me personally and not hide behind the judiciary," he continued.
"My position is directed strictly against the general prosecutor and his actions, contrary to what he is trying to imply through hiding behind President Michel Suleiman," Harb declared.
"Madi's history bears witness to his actions, while my own demonstrates that I have never remained silent over any wrongdoings," the MP stressed.
This development comes after Madi demanded on Monday to strip Harb of his parliamentary immunity over remarks he made about the judiciary and President Michel Suleiman after Mahmoud Hayek, the Hezbollah member was charged with the attempt on his life.
"I thank Suleiman for his intervention to tackle this case and press for an arrest warrant to be issued against Hayek. The president protects the law and he is not biased against any side," the Harb said.
Harb then recounted the steps that led to an arrest warrant being issued against Hayek, saying that his insistence to apprehend the suspect was met by indifference by the general prosecution.
He then accused Madi of seeking to strike a deal with Hezbollah in order to protect Hayek and cover up the case, saying he is biased towards the March 8 camp.
Addressing the general prosecutor, he stated: "You insulted the authority that you should represent."
"Madi is a private prosecutor, not a general one," said Harb, while revealing that he will request that the judicial inspection bureau and Justice Minister Shakib Qortbawi tackle the case.
"The whole of Lebanon would be in danger if its judiciary is jeopardized," Harb remarked.
"Had those in possession of illegal arms handed over their weapons, the state would have been stronger, we would not have reached this current state of affairs, and my assassination attempt would not have taken place," he noted in reference to Hezbollah's arms.
"The possession of illegitimate arms is the main cause of Lebanon's problems," he stressed.
"Madi's case is the product of the current state of affairs in Lebanon. We should not allow him, and the likes of him, to tarnish the judiciary's image," Harb declared.
Madi later criticized Harb statements. During an interview with Voice of Lebanon radio he said: "Should I choose to respond to him, I will do so through legal and civilized means, " adding: "His claims are not based on evidence."
Harb escaped an assassination attempt after residents of a building in which his office is located ( Sami el-Solh Boulevard in the Beirut district of Badaro ) discovered individuals trying to booby-trap the elevator.
Al Hayat newspaper reported that Lebanese military court Judge Saqr Saqr who charged on Friday Hayek with Harb's attempted assassination has now in his possession the photos taken by the security cameras when he was at the scene of the incident.
Harb last Friday praised Judge Saqr and president Suleiman for resisting the pressure imposed on them by Hezbollah to forgo the case and blasted Hezbollah for refusing to hand over Hayek to the court .
March 14 held PM Nagib Mikati responsible for the wave of assassinations in Lebanon starting with the attempted assassination of Lebanese Forces leader Samir Geagea last April, the attempted assassination of MP Harb and the assassination of Lebanon Internal Security intelligence chief Wissam al Hassan who was killed last October .
The current cabinet is dominated by Hezbollah militant group, which so far has also refused to hand over to the Special Tribunal for Lebanon (STL) the four Hezbollah operatives that were indicted in the 2005 assassination of former Pm Rafik Hariri.