Bomb explodes near Lebanon PM's residence, no casualties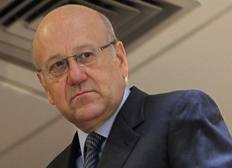 A Bomb exploded in Tripoli on Tuesday near Lebanon Prime Minister Najib Mikati's residence but no casualties were reported according to LBCI.
The bomb was placed between Mikati's residence and Hotel Quality Inn according to LBCI.
This development comes after Mikati renewed on Tuesday Lebanon's condemnation of the Burgas bus attack that targeted a number of Israeli tourists in Bulgaria in 2012, in light of the country's accusation against Hezbollah of being involved in the incident.
He said in a statement: "We condemn any assault against any Arab or foreign country and we will cooperate with Bulgaria in the investigation into the attack, " according to LBCI
The PM stressed Lebanon's firm ties with Bulgaria and the members of the European Union.
"We are keen on Bulgaria's security and that of the EU states and on ensuring that these relationships will be maintained and developed on all levels," Mikati added.
"To that end, we visited Bulgaria on a successful trip last year during which we stressed the importance of developing bilateral ties and we sensed Bulgarian officials' keenness on Lebanon," he remarked.
Bulgaria accused on Tuesday Hezbollah of being behind the bus bomb attack in July 2012 that killed five Israeli tourists and one Bulgarian.
Some 30 people were wounded in the incident.