Egypt's top cleric tells Ahmadiejad not to mess with Bahrain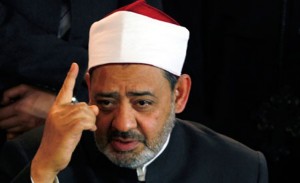 The president of the Islamic Republic of Iran was told by Egypt's top Sunni Muslim cleric at al-Azhar university on Tuesday not to mess with the state of Bahrain.
Sheikh Ahmed al-Tayyeb, grand imam of Cairo's Al-Azhar, the highest seat of Sunni Muslim learning warned the visiting Iranian presidentPresident Mahmoud Ahmadinejad that Bahrain is a red line.
He also urged the Iranian leader to grant the Sunnis of Iran their full rights .
This is in reference to the Ahwazi Arabs who are reportedly treated as second class citizens by the Iranian regime
He also criticized Iran for trying to expand its influence in the Muslim world and for is interference in the Arab Gulf states
Ahmadinejad is on a historic trip in Tehran's efforts to improve ties with an Arab state which is now run by an Islamist.
Ahmadinejad will be the first Iranian head of state to visit Egypt since the 1979 Iranian revolution, which led to a rupture in diplomatic relations between two of the most influential states in the Middle East. He is due to attend a two-day Islamic summit in Cairo that begins on Wednesday.