Family of missing US journalist posts ads in Syria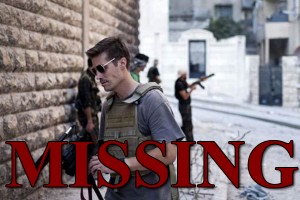 Lebanon, NH – It has been 75 days since an American journalist was reported missing in Syria, and his New Hampshire family has stepped up their campaign to find him, using social media to advertise his name and photo in that country.
James Foley was last seen in northwest Syria on Nov. 22. His family in Rochester says he was kidnapped by unknown gunmen. He was in the country contributing videos to Agence France-Press.
The advertisements on Facebook, Twitter and other sites show a photo of the 39-year-old Foley. They say he is a reporter last seen in Syria and that his family is looking for him. It shows a website about him, freejamesfoley.org
Foley's parents made a public plea to his captors last month, but have received no new information.
Lebanon Daily News, NH