More evidence linking Hezbollah to Harb's case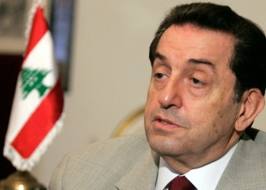 Al Hayat newspaper reported that Lebanese military court Judge Saqr Saqr who charged on Friday Mahmoud Hayek with the attempted assassination of MP Butros Harb ( pictured right) has now in his possession the photos taken by the security cameras when he was at the scene of the incident.
Hayek was also charged with carrying out terrorist activity and if convicted he could be sentenced to death.
Harb who is a key member of March 14 opposition alliance, said that Hayek refused to appear before the investigative judge because he is a member of Hezbollah's security apparatus and the party is trying to shield him.
Harb escaped in July 2012 an assassination attempt after residents of a building in which his office is located ( Sami el-Solh Boulevard in the Beirut district of Badaro ) discovered individuals trying to booby-trap the elevator.
Al Hayat newspaper sources also revealed that 3 other people who were waiting outside the building for Hayek helped him escape after the residents found out what he was up to.
Harb praised Judge Saqr and president Michel Suleiman for resisting the pressure imposed on them by Hezbollah to forgo the case and blasted Hezbollah for refusing to hand over Hayek to the court .
Harb , who is a lawyer said : "What concerns me most is preserving justice in Lebanon".
March 14 held PM Nagib Mikati responsible for the wave of assassinations in Lebanon starting with the attempted assassination of Lebanese Forces leader Samir Geagea last April, the attempted assassination of MP Harb and the assassination of Lebanon Internal Security intelligence chief Wissam al Hassan who was killed last October .
The current cabinet is dominated by Hezbollah militant group, which so far has also refused to hand over to the Special Tribunal for Lebanon (STL) the four Hezbollah operatives that were indicted in the 2005 assassination of former Pm Rafik Hariri.