Gulf, Qatar airlines win Saudi domestic routes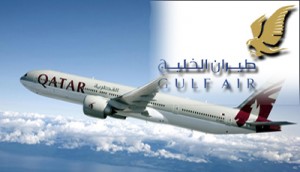 The Saudi aviation authority has awarded Qatar Airways and Bahrain's Gulf Air licences to operate domestic flights in the vast desert kingdom.
The national carriers of the two neighboring Gulf states will be the first foreign airlines to operate domestic flights in the oil-rich nation, competing mainly with the government-owned Saudia and budget carrier NAS.
"The best bids came from Gulf Air ( based in Bahrain) and its partners, and Qatar Airways ( based in Qatar) ," the General Authority of Civil Aviation said in a statement late on Friday.
It said 14 companies had competed for the licences, adding that the decision took into consideration the accumulated experience of the companies in air transport, as well as operational efficiency and financial solvency.
Saudi Arabia stretches over    2,250,000  sq.km  or  870,000 sq mi   of mainly desert covering most of the Arabian Peninsula, and has a population of more than 27 million, including around 8.5 million foreigners.
It has four international airports and 22 domestic airports.
brecorder