Israel to deport tens of thousands of Africans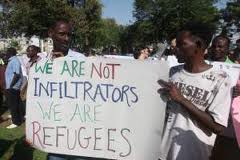 Prime Minister Benjamin Netanyahu said Monday he aims to repatriate tens of thousands of African illegal migrants and that the inflow into Israel from the Sinai peninsula has been brought to a halt.
"Our aim is to repatriate tens of thousands of infiltrators now in Israel to their countries of origin," he said, adding Israel had been in contact with several African governments.
"After having been confronted by the threat of hundreds of thousands (of illegal migrants), this month not a single infiltrator has reached cities in Israel," he said, quoted in a government statement.
"We have reached this result over the past several months, and next month we will have completed the construction of the fence on the border with the Sinai," facing Egypt, he said.
Israel began constructing the fence in late 2010 to stem the influx of thousands of illegal migrants through the porous border, which has also been a major drug and human trafficking route into Israel.
"Now we are moving on to the next stage, the repatriation of the infiltrators already here."
Interior Minister Eli Yishai had warned in August that Sudanese illegals who did not leave the country by October 15 would be detained, held in camps and deported.
Israel already began expelling South Sudanese in June, after Yishai ruled they were no longer at risk in their newly independent homeland.
An Israeli court the same month gave the green light for plans to repatriate around 2,000 illegal migrants from the Ivory Coast.
Rising tensions over the growing number of illegal immigrants exploded into violence in May when a protest in south Tel Aviv turned ugly, with demonstrators smashing African-run shops and property, chanting "Blacks out!"
Israeli boycott
South Africa's ruling party, the African National Congress (ANC), issued a statement on December 20, saying that the majority of its members have voted for boycotting products from illegal Israeli settlements built on occupied lands in a bid to end the complicity of South African people in the violation of Palestinian rights.
The statement also said that "The ANC is unequivocal in its support for the Palestinian people in their struggle for self-determination, and unapologetic in its view that the Palestinians are the victims and the oppressed in the conflict with Israel."
AFP