Hezbollah chief calls Israeli ground assault of Gaza stupid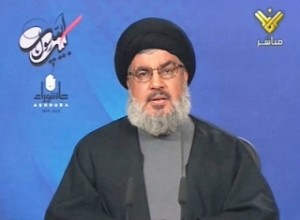 Hezbollah chief Sayyed Hassan Nasrallah warned Israel against any attempt to launch a ground assault against Hamas in the Gaza Strip calling such a move a stupid mistake and a miscalculated step.
In a speech on Saturday  on the occasion marking the commemoration of the death of Imam Houssein , Nasrallah said: "The Israelis will commit a stupid mistake if they decide to launch a ground operation against Gaza."
He stressed that Hamas today is not the Hamas of 2008… they are stronger , more determined, more organized and possess better planning capabilities. He added "as you have seen the resistance has until now been capable of firing rockets on Tel Aviv, Jerusalem and other cities and the Israeli enemy is disturbed, anxious and in retreat."
Israeli aircraft bombed Hamas government buildings in Gaza Saturday , including the office of the territory's political leader, after Israel's cabinet authorized the mobilization of up to 75,000 reservists, to prepare for a possible ground invasion.
Nasrallah commented about the Arab League emergency meeting in Egypt and threw his support behind the Lebanese Foreign Minister Adnan Mansour.
Mansour urged on Saturday the Arab nations to adopt strict political and economic measures against Israel, in response to the Israeli assault on the Gaza strip.
"The Arab countries must freeze their contacts, withdraw their ambassadors and suspend agreements with Israel," Mansour said during the Arab Foreign Ministers emergency meeting to discuss situation in Gaza at the headquarter of the Arab League in Cairo.
Mansour pointed out that "the Palestinian people are demanding the Arabs to courageously stand against the assault."
"Israelis must be prosecuted in international courts for committing war crimes against Palestinians," Mansour added.
Earlier on Saturday Qatar's prime minister slammed the Arab League meetings in Cairo, and called for a review of the pan-Arab body's dealing with the Palestinian issue, stressing that the meetings are a waste of money and time and the statements that follow the meetings are meaningless.
"Our meetings have become a waste of money and a waste of time," Sheikh Hamad bin Jassem al-Thani told Arab foreign ministers gathered to draw up a response to Israel's attack on Gaza.
"We are meeting today and we will issue a statement. The statement will mean nothing," he said.
"The whole situation needs a clear and honest review… We can't keep promising hope without delivering," Sheikh Hamad said.
He said money pledged to the Palestinians after previous Israeli attacks had failed to reach the Palestinians.
"They received nothing… Gaza needs to receive the money we have already pledged."
"They need housing, schools, hospitals. This is what we should be offering them. We have been used to pledging things and not carrying them through," Sheikh Hamad said.