Syria rebels name their ambassador to Paris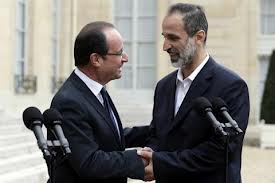 France invited Syria's new opposition coalition to send an ambassador to Paris, but remained cautious on Saturday on the issue of supplying weapons, as inside Syria rebels said they took a key airport.
Rebels seized control of Hamdan airport in Deir Ezzor province on the border with Iraq, said activists monitoring the conflict.
In Paris, French President Francois Hollande met the National Coalition leader Ahmed Moaz al-Khatib on Saturday and afterwards told reporters he planned to let the group appoint an ambassador to France.
The post is to be filled by Monzer Makhous, an academic, although it was unclear if this would happen before a transitional Syrian government was formed.
Khatib, for his part, repeated his coalition's promise to build a transitional government composed of technocrats rather than politicians, and said it would include representatives of all ethnic and religious groups in Syria.
"There is no problem. The coalition exists and we will launch a call for candidates to form a government of technocrats that will work until the regime falls," Khatib told reporters.
But he appeared to have made little progress on his call for the West to arm the insurgency, which has led to an estimated 39,000 deaths since it began 20 months ago.
"The (rebel) Syrians need military means but the international community also has to exercise control," Hollande said.
He acknowledged that France could not act without agreement from its European Union partners: the EU has a strict embargo on arms deliveries to Syria.
"The protection of liberated zones can only be done in the framework of the international community," Hollande said after meeting Khatib.
"Once an alternative government has been formed, it can itself legitimately call for protection and support."
EU foreign ministers are due to discuss the embargo at talks in Brussels on Monday.
Hollande also said that Khatib, a Sunni imam, had assured him that the future government would include Christians and Alawites, the minority group to which President Bashar al-Assad belongs.
France, already one of Assad's harshest critics, on Tuesday became the first Western power to recognise the the opposition coalition as the sole representative of the Syrian people.
The new, broader-based opposition alliance was formed last weekend in Doha.
France, Turkey and the Gulf states have so far granted official recognition to the new Syrian grouping: Britain's foreign minister William Hague, who met Khatib on Friday, said London was considering following suit.
In eastern Syria, meanwhile, after battles lasting several weeks rebels seized Hamdan airport in the town of Albu Kamal in Deir Ezzor province on the border with Iraq, said the Syrian Observatory for Human Rights.
Syria's military had used the agricultural airport as a base for helicopter gunships.
Rebels also seized several tanks and mortars the army had stored there, said the Observatory, which relies on a network of activists, doctors and lawyers for its information.
"The rebels now control large swathes of land in the area," Observatory director Rami Abdel Rahman told AFP.
"The army has lost control of practically all the eastern border area, barring the Mayadeen military base" some 50 kilometres (30 miles) northwest of Albu Kamal, he said.
At least 66 people were killed across the country on Saturday — 41 civilians, 24 rebels and one soldier — according to the Observatory.
Syria's air force dropped deadly explosive-filled barrels on several rebel-held areas, it said.
Most of the army's air strikes targeted Idlib province in the northwest, Aleppo in the north and Damascus province. All three provinces are home to highly organised rebel groups.
In Damascus, four civilians were killed when the Palestinian Yarmuk camp was shelled, it said.
In Aleppo, two rebels were killed in fighting, and regime forces launched several air strikes on towns near the embattled city, including Hreitan and Anadan, said the Observatory.
A Turkish journalist held by Syrian government forces since August was freed on Saturday and handed over to a group of Turkish opposition lawmakers after they met Assad, Turkish media reported.
France 24