Hezbollah ready to confront Israel, says no.2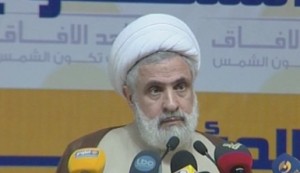 Deputy Secretary-General of Hezbollah Sheikh Naim Qassem ( also known as number 2 ) revealed that his party is working day and night, and preparing to be ready anytime to confront Israel.
Commenting the ongoing discussions in Lebanon on electoral law that will be used in the 2013 elections , Qassem described the 1960 electoral law as an "unjust ", adding that it is one of the unfair laws which does not ensure real representation.
Commenting on the law proposed by March 14 Christian MPs Qassem pointed that the proposed 50 districts will lead to the 1960s law, because "they are both under the same category, domination and rejection of the other".