Beirut's Twin Raouche Rocks turn pink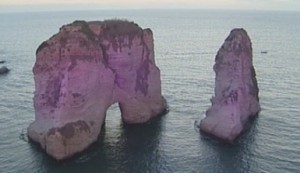 The Lebanese Breast Cancer Foundation, the AUBMC, and the Municipality of Beirut decided to send an awareness message and to celebrate the healing from breast cancer through lighting Beirut's Twin Raouche Rocks in pink .
The event aimed at celebrating breast cancer survivors, increase community awareness, and to encourage women to enroll in breast cancer screening programs and mammography starting age 40.
After lighting the rocks, the festival was inaugurated by displaying a documentary warning against the dangers of cancer.
Leila Ajam, one of the patients who recovered from breast cancer, stressed that "the patient must be strong and must have a will to heal from the disease".
LBC