Aoun admits that Lebanese politicians are a mafia, updates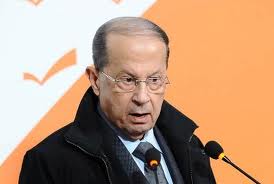 Free Patriotic Movement leader MP Michel Aoun  admitted   on Saturday during a visit to Jezzine  that Lebanese politicians are a  mafia and he has the documents to prove it .
The country is being robbed, as most of its rulers form mafia groups. " he added: I have documents and investigations  to prove it and all  this will be published soon in a book… No one will be able to discredit us."
Aoun , who did not name the mafia groups served as the acting prime minister From September 22 , 1988 to October 13, 1990 when he was defeated by the Syrian army. Aoun then went into exile in France and returned to Lebanon days after the Syrian army withdrew from Lebanon.  Aoun was accused of robbing the Lebanese treasury while he was the acting PM.
Aoun also admitted that Hezbollah is a liability for Lebanon:
"Israel  will not only strike Iran and Syria but also Hezbollah, which constitutes a danger to Israel".
Commenting on the upcoming 2013 elections he said:"The real danger is if the elections do not take place.  There are two solutions: either the Orthodox proposal or the draft law based on proportional representation".
Speaker Nabih Berri  last  Monday referred the draft electoral law, that was approved by the cabinet and the president , to the relevant parliamentary committees , National News Agency reported on Monday.
Berri also referred to the committees a draft electoral law submitted by Change and Reform bloc MP Neemtallah Abi Nasr and MP Alain Aoun . This is the so called "Greek Orthodox gathering proposal" which calls on each sect in Lebanon to vote only for its candidates in the elections based on proportional representation and one electoral district for the whole country .
Lebanon's Cabinet approved earlier in August the electoral draft law that called for proportional representation and divided the country into 13 districts.
Lebanon was divided into the following electoral districts:
Beirut 2, south Lebanon 2, Bekaa 3, north Lebanon 3 , Mount Lebanon 3.
The new electoral law was approved by the majority of ministers, including the FPM ministers . The ministers that represent Progressive Socialist Party leader MP Walid Jumblatt's bloc voted against it.
Aoun visited several villages in Jezzine district and was  met during his stops by Hezbollah and Amal supporters . During his visits to the towns of Jermoq, Aychiyeh and Al Rihan  he was received by  Hezbollah parliamentary  bloc leader MP Mohammad Raad,  other Hezbollah  and Amal officials.
Update :Aoun's convoy attacked
On his way to Batroun from Jezzine, Aoun's convoy passed through the city of Sidon in southern Lebanon. Aoun later told his supporters in Batroun that his convoy was attacked in Sidon and he was subjected to his fourth assassination attempt. He assured his supporters that those who attacked his convoy will be found . He added :" I don't know why they want to assassinate me ,I never killed anyone ."
Update 2 : Hezbollah chief Sayyed Hassan Nasrallah contacted Aoun to check on his health following the announcement that he was subjected to an assassination attempt.