Pope Signs Apostolic Exhortation in Harissa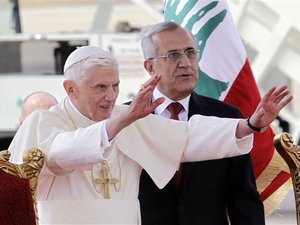 Pope Benedict XVI has appealed to Christians, Jews and Muslims alike to "root out" religious fundamentalism, as deadly unrest sweeps the Middle East over a film mocking Islam.
The pope, who arrived in Lebanon on Friday for a three-day visit, has also told the Christian minority in the Middle East not to fear for its future.
His exhortations were made public as he put his signature to recommendations emerging from a synod of bishops he convened two years ago to examine the future of the Christian minority in the region and its relations with Islam and Judaism.
The recommendations were signed during a mass at St. Paul's Cathedral in Harissa, which was attended by President Michel Suleiman and a number of officials.
The focus is a document, known as "Ecclesia in Medio Oriente," that contains a series of recommendations on how they might live better Christian lives and serve as beacons of peace.
The exhortations examine at length secularization, including its extreme forms, and violent fundamentalism.
Referring to the latter, they says that "religious fundamentalism … seeks to take power for political ends, at times using violence, over the individual conscience and over religion."
The pope appealed "to all the religious leaders of the Middle East to endeavor, by their example and their teaching, to do everything possible to uproot this threat, which indiscriminately and fatally affects believers."
He said political-economic uncertainties, manipulation by some and inadequate knowledge of religion among others contribute to fundamentalism, which he told reporters on his flight to Lebanon leads to the "falsification of religion."
On Thursday, a group of Muslim scholars based in Qatar accused the pope of spreading fear of Muslims among Christians.
The International Union of Muslim Scholars accused him of "fueling sedition" by "planning to sign an apostolic exhortation that contains dangerous messages and ideas."
It said the messages include a "warning from the Islamization of the society and spreading fear among Christians from political Islam in the region.
"It is strange that at the time the pope warns from political Islam, he himself practices large-scale political Christianity," according to the Muslim scholars.
Coinciding with the pope's arrival, anti-American protests over a U.S.-produced film that mocks Islam erupted across the Muslim world, with violence in Sudan, Lebanon and Yemen leaving at least three people dead and dozens wounded.
One demonstrator was killed in clashes with police after an angry crowd of Islamists set fire to a KFC restaurant in north Lebanon, a security source said.
The "apostolic exhortations" signed in Lebanon affirm Christians as an integral part of the Middle East, given their presence there since the first days of the faith.
It also backs the concept of "healthy secularism," rejects violence and stresses the need to struggle against anything that that would reduce the region to having just one religion.
In an address before signing the document, the pope said the Church has been able to "hear the troubled cry and see the desperate faces of many men and women who experience grave human and material difficulties, who live amid powerful tensions in fear and uncertainty, who desire to follow Christ … yet often find themselves prevented from doing so."
To them he said: "I urge you to fear not, to stand firm in truth and in purity of faith."
"It is here and now that we are called to celebrate the victory of love over hate, forgiveness over revenge, service over domination, humility over pride and unity over division.
Naharnet