Iran's policies attacked by U.N. head, Egyptian leader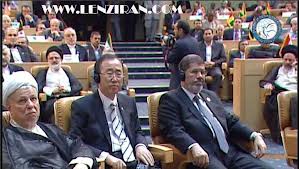 The U.N. chief and Egypt's president delivered stinging speeches at a summit of developing nations in Iran on Thursday, damaging the host country's quest for global prestige and support for its nuclear programme and its policy on Syria.
The Iranians had to listen while Ban Ki-moon denounced them for calling for Israel's destruction and denying the Holocaust.
Nor did Mohamed Mursi, the first Egyptian leader to visit Iran since the 1979 Islamic revolution, hold back as he urged Non-Aligned Movement (NAM) members to back Syrians trying to topple President Bashar al-Assad, Tehran's closest Arab ally.
The United States and Israel had frowned on the decisions by Ban and Mursi to attend the summit.
"I strongly reject threats by any member state to destroy another or outrageous attempts to deny historical facts such as the Holocaust," Ban said in his speech, without naming Iran.
"Claiming that Israel does not have the right to exist or describing it in racist terms is not only wrong but undermines the very principle we all have pledged to uphold," he said.
Iranian President Mahmoud Ahmadinejad has repeatedly denied the Holocaust and this month called Israel a "cancerous tumour".
Deputy Israeli Foreign Minister Danny Ayalon said Ban would have conveyed a stronger message by boycotting the NAM summit.
"His going there harmed the message and really sabotaged the efforts, which are so critical today, to stop the illegal Iranian nuclear activity," Ayalon told Israel Radio.
However, Meir Javedanfar, an Iranian-Israeli expert at the Interdisciplinary Center in Herzliya, Israel, said Mursi and Ban deserved credit for their blunt remarks in Tehran.
"BULLYING MANNER"
"Mursi's statement on Syria will be viewed as a serious challenge against Iran's narrative on Syria," he said, adding that Israel should thank Ban for speaking out so clearly.
"In the history of the Islamic Republic, nobody has challenged the supreme leader's (Ayatollah Ali Khamenei's) position on Israel in front of him, and in such a manner. This is likely to have long-term reverberations and consequences inside Iran's halls of power."
In his speech, Khamenei criticised the U.N. Security Council as a tool used by the United States "to impose its bullying manner on the world".
"They (Americans) talk of human rights when what they mean is Western interests. They talk of democracy when what they have is military intervention in other countries," he declared.
Khamenei did not mention the conflict in Syria or Iran's staunch support for Assad, who is struggling to crush a 17-month uprising in which more than 18,000 people have been killed.
Mursi, a moderate Egyptian Islamist, said solidarity with the Syrian people "against an oppressive regime that has lost its legitimacy is an ethical duty" and a strategic necessity.
"We all have to announce our full solidarity with the struggle of those seeking freedom and justice in Syria, and translate this sympathy into a clear political vision that supports a peaceful transition to a democratic system of rule that reflects the demands of the Syrian people for freedom."
His words prompted Syrian delegates to leave the hall.
Syrian Foreign Minister Walid al-Moualem said the delegation withdrew "in rejection of the incitement in the speech to continue the shedding of Syrian blood", and returned after Mursi's address was over, Syrian state television reported.
Iran has portrayed its hosting of the high-profile summit as proof that Western efforts to isolate it and punish it economically for its disputed nuclear programme have failed.
NUCLEAR DISPUTE
"Our motto is nuclear energy for all and nuclear weapons for none," Khamenei told the conference, a day after Ban urged him to prove that Iran's nuclear work is peaceful.
His words will do little to allay Western suspicions that Iran is covertly seeking a nuclear weapons capability.
A report from the U.N. nuclear watchdog this week is likely to voice concern about the Parchin military complex southeast of Tehran, to which its inspectors have been denied access.
The International Atomic Energy Agency (IAEA) believes Iran has conducted nuclear-related explosives tests at Parchin. Western diplomats say satellite images suggest Iran has cleansed the site, which it says is a conventional military facility.
The IAEA's new quarterly report will say Iran has installed more than 300 new uranium enrichment centrifuges at its Fordow underground site since May, Vienna-based diplomats say.
Iran is using Fordow to enrich uranium to 20 percent fissile purity, taking it much nearer the 90 percent needed for bombs. Tehran says the material is for a medical research reactor.
"There is reason to be concerned by increased tempo of enrichment, the larger stockpile of enriched uranium and, most importantly, the additional centrifuges installed in the deeply-buried facility at Fordow," said Mark Fitzpatrick of the International Institute of Strategic Studies think-tank.
The NAM summit's final declaration on Friday is set to express deep concern about the violence in Syria and support for efforts by U.N.-Arab League envoy Lakhdar Brahimi to broker a resolution, a delegate at the meeting told Reuters.
Mursi's blunt remarks on Syria suggested there would be no early restoration of Egyptian-Iranian diplomatic ties, which broke down after the Iranian revolution over Egypt's support for the overthrown Shah and over its peace agreement with Israel.
Ahmadinejad held separate talks with Mursi in what Iran's Deputy Foreign Minister Hossein Amir-Abdollahian described as a "friendly atmosphere", Iranian state television reported.
Mursi left Iran after the 40-minute meeting, the highest-level contact between the two countries in more than 30 years.
Amir-Abdollahian said Iran and Egypt shared the same approach to a resolution of the Syria conflict, arguing that they both emphasised a peaceful solution, prevention of foreign interference, rejection of violence and support for dialogue.
"From the beginning, Iran has supported Mursi's plan," he said, referring to the Egyptian leader's proposal for a contact group on Syria comprising Egypt, Iran, Saudi Arabi and Turkey.
Shadi Hamid, of the Brookings Center in Doha, said Mursi, who has promised a "balanced" foreign policy, had signalled by going to Tehran that he would not be as closely aligned with the United States as his ousted predecessor Hosni Mubarak.
But his speech showed "he is not going to indulge the Iranians even when he sitting right next to them", Shadi said.
Reuters