PSP to rally for expulsion of the Syrian envoy to Lebanon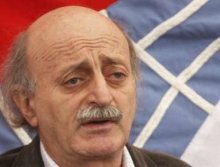 Progressive Socialist Party is set to hold a rally on Friday afternoon near Samir Kassir Square in downtown Beirut to demand the expulsion of the Syrian Ambassador to Lebanon Ali Abdul Karim Ali.
"This rally comes in support of the Syrian people and to denounce the killing machine of the Syrian regime," PSP's media officer, Rami al-Rayyes, told reporters on Thursday.
He pointed out that the Syrian Ambassador "can no longer stay in Beirut" over the "daily massacres committed against the Syrian people by the regime."
This development comes after the March 14 alliance's youth movement and activists marched to the Foreign Ministry in Ashrafiyeh to demand the expulsion of the Syrian Ambassador.
Rayyes noted that the party had previously held several sit-ins to support the Syrian people and to protest the disappearance of former Syrian VP and the co-founder of the Baath party Shebli al-Aysami.
Al-Aysami, 87, who fled his native country in 1966 over political differences, was abducted in May 2011 in Aley.
MP Akram Chehayeb, a member of the National Struggle Front bloc which is headed by Jumblatt slammed Syrian Ambassador to Lebanon last October by saying that "no diplomat has the right to interfere in a case that is now in the hands of the relevant Lebanese judiciary," in reference to the disappearance of Aysami , who went missing shortly after arriving in Lebanon on a visit to his daughter .
According to Al-Jumhuriya newspaper, Internal Security Forces Director General Achraf Rifi told the parliamentary committee for human rights last October that "members of the Lebanese security forces assigned to protect the Syrian embassy in Lebanon kidnapped four Syrians using embassy vehicles."
March 14 MP Marwan Hamadeh told Al-Jumhuriya newspaper in an interview published last October that the Syrian Embassy in Lebanon should be closed if it was proven to be involved in the abduction of Syrian nationals in Lebanon.