Suleiman stresses importance of Taef, dialogue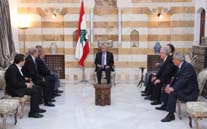 During a meeting at the Beiteddine palace with the Shouf MPs, Lebanese president Michel Suleiman stressed the importance of sticking with the Taef accord, "since it is the only workable formula for Lebanon and abandoning will be too risky."
"All the political and national figures should seek to preserve Lebanon's stability and sovereignty through the implementation of the Taef accord and cooperation" Suleiman said.
The Shouf MPs met Suleiman to welcome him to his summer presidential residence in Beiteddine, Shouf region of Mt Lebanon.
The president reportedly also stressed to the MPs the importance of participation in upcoming dialogue session, which is aimed at reducing tension in Lebanon.
Suleiman's defense of the Taef accord comes after Free Patriotic Movement MP Abbas Hashem told Al-Jadeed television on July 22 that the Taef Accord was "dead."
"The Taef Accord is dead as changes call for a political and social charter different than the Taef Accord," Hashem said
The Taif or (Taef ) Accord (Agreement) also known as "National Reconciliation Accord," or "Document of National Accord") was an agreement reached to provide "the basis for the ending of the civil war and the return to political normalcy in Lebanon." Negotiated in Taif, Saudi Arabia, it was designed to end the decades-long Lebanese civil war, politically accommodate the demographic shift to a Muslim majority, reassert Lebanese authority in South Lebanon (then occupied by Israel), though the agreement set a time frame for Syrian withdrawal and stipulated that the Syrians withdraw in two years. It was signed on October 22, 1989 and ratified on November 4, 1989.
FPM is headed by MP Michel Aoun a close ally of Hezbollah and speaker Nabih Berri. Both Hezbollah and Berri have been calling for a new Taef accord. According to Taef accord the Christians and the Muslims share equally all the main positions in Lebanon including the parliament, but Hezbollah reportedly wants to change this to 3 equal shares ; one third for the Christians, one third for the Shiites and one third for the Sunnis. Probably the share of the Druze will be included in the Sunni, Shiite shares.
Dialogue/ defense strategy
Earlier on Saturday Suleiman stressed that the tripartite formula of the people, army and the resistance requires some clarification, noting that the only goal behind the defense strategy is to "confront Israeli aggression against Lebanese territories."
"We have already stressed several times in ministerial statements the importance of cooperation among the people, the army and the resistance but we need to clarify the means of cooperation," Suleiman said .
His comment comes after Hezbollah chief Sayyed Hassan Nasrallah called on the national dialogue committee to agree on a "liberation strategy" as well as on a defense strategy. Nasrallah accused the opposition of using the defense strategy to strip Hezbollah of its arms .
Suleiman postponed last month's dialogue session after the opposition boycotted it and linked its participation in future sessions to a government pledge to provide security agencies with the so-called telecom data to help them investigate assassination attempts against March 14 leaders MP Butros Harb and Lebanese Forces chief Samir Geagea.