Israel bars entry of 4 NAM ministers to Ramallah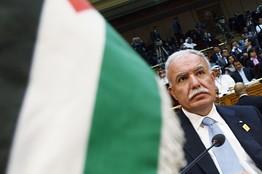 Israel on Sunday barred the foreign ministers of several Non-Aligned Movement countries from entering the West Bank for a top-level meeting in Ramallah , sources on both sides said on Sunday.
Speaking on condition of anonymity, a Palestinian official said Israel refused to allow entry to the foreign ministers of Malaysia, Indonesia, Bangladesh and Cuba.
Foreign ministers from 12 nations belonging to NAM's Palestine Committee were to meet in Ramallah on Sunday evening to back Palestinian plans to seek upgraded membership at the United Nations when the General Assembly meets next month.
The move, which is likely to gain full backing from the 120-member Non-Aligned Movement when it meets in Tehran later this month, is strongly opposed by Israel and the United States.
According to Israeli Haaretz newspaper the meeting was announced on Saturday by Palestinian Foreign Minister Riyad al-Malki, who said that the purpose of the session was to introduce NAM members to the Palestinian situation and to ask for their support.
"The meeting aims to stress the right of our people and leadership to hold conferences on our land and to support our struggle to end the occupation and settlements and establish our independent state with East Jerusalem as its capital," al-Malki was quoted as saying