Syrian astronaut defected and fled to Turkey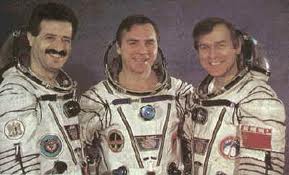 Turkish Anatolia news agency reported that Syrian Air Force pilot Mohammed Ahmed Ferris  ( pictured  first from left) who became the first Syrian astronaut, fled to Turkey on Sunday after he announced his defection from the regime of President Bashar al-Assad.
The agency also reported that before crossing into Turkey he stopped at the headquarters of the Free Syrian Army in his hometown Aleppo to express his solidarity with the opposition fighters who are fighting the Syrian army in Syria's largest city.
Ferris  was part of a three-man crew of a Soviet space mission in 1987.
Ferrris was born in 1951 in Aleppo.