Responses to Damascus bombing mirror Lebanon's divisions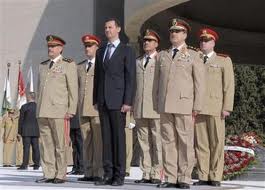 The bomb attack in Damascus on Wednesday prompted starkly different reactions among political groups in Lebanon, many of whom define themselves by their support of or hatred for the Syrian government.
When news of the bombing broke early in the afternoon, celebratory gunfire broke out in Tripoli, Lebanon's second-largest city, where a majority of the population are Sunni Muslims who support the Syrian opposition. There was so much gunfire that the bullets falling from the sky killed one person and injured nine others, according to a Lebanese security official who spoke on the condition of anonymity because of the sensitivity of the matter.
Thousands of Syrian refugees have also moved to Tripoli in the past year, ramping up tensions with the small community of Alawites who also live in the city. Clashes in recent months between Alawites in the neighborhood of Jabal Mohsen and Sunnis in the neighboring district of Bab Tabbaneh have left more than 20 people dead.
Ali Fouda, a spokesman for the Arab Democratic Party, the largest Alawite party in Lebanon, said the celebratory gunfire on Wednesday turned ugly. "They fired on Jabal Mohsen and wounded a child, a woman and a young man," he said.
On Wednesday night, Hasan Nasrallah, the leader of Hezbollah, the party that is widely viewed as a proxy for the Syrian government in Lebanon, gave a speech commemorating the 2006 war with Israel and commented on the attack in Damascus.
"Today we tell the martyr leaders of Syria that the resistance is grateful for their support," he said. "They were our colleagues in arms and our comrades in our conflict with the Israeli enemy. This army still has the capability and determination to continue and defeat all conspiracies."
Nasrallah rounded out his speech by asking his supporters to remain calm and not respond to sectarian provocation.
"I call on the people of the resistance to be calm and tolerant," he said. "If you hear bad words — and you will — be tolerant, because they all know that we give our souls, children and families for our country."
Washington Post