Top Muslim cleric, deputy shot dead in Tatarstan, Russia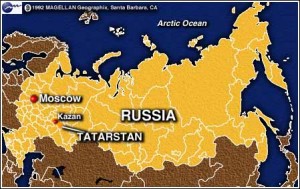 Investigators say a top Muslim cleric in Russia's Tatarstan province has been shot dead, and another wounded by a car bomb.
Russia's Investigative Committee said that Valiulla Yakupov, the deputy to the Muslim province's chief mufti, was gunned down Thursday on the way out of his house in Tatarstan's regional capital, Kazan.
Tatarstan investigator Eduard Abdullin told The Associated Press that chief mufti Ildus Fayzov was wounded in the leg after an explosive device ripped through his vehicle in central Kazan.
Both clerics were known as critics of radical Islamist groups that advocate a strict version of Islam known as Salafism.
Tatarstan is a Volga River province with a population of almost 4 million, more than half of which are Sunni Muslims.
Washington Post